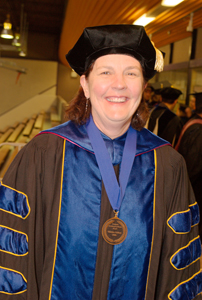 Professor of Kinesiology
Yao Yuan Sze Foundation Chair of Kinesiology
Department of Kinesiology
Science & Learning Center 304
562.907.4969
pvanoosbree@whittier.edu
Academic History
B.S. and M.S. from Northwest Missouri State University
M.S. from the University of Wisconsin at La Crosse
Ph.D. from Texas Woman's University.
Academic Focus
Strength training
Nutrition
Bio
Professor Patricia Van Oosbree has centered her research on the effects of strength training on body composition and muscle fiber type. She is beginning a study on the nutritional status of college-age students in relation to training levels.