Whittier College Traditions
Some Whittier traditions date back to the College's founding a century ago, while others have emerged in recent times. 
These traditions reflect both solemn rituals and the lighter side of college life, but each serve to connect students with a living history, important aspects of academic and social community, and of the College's distinguished past.
The Light of Learning
The most significant of Whittier College traditions is one that marks both the initiation of new students into the College and the conclusion of their time at Whittier. The President's Convocation, held in Harris Amphitheatre on the first evening of Orientation, begins with students processing through a corridor of faculty in full academic regalia and culminates with the igniting of candles to symbolize sharing the Light of Learning. The poignant ceremony is repeated the night before Commencement at Baccalaureate, marking the successful completion of a course of study. 
The Rock
In June of 1912, one of the campus' most noteworthy and enduring landmarks arrived. It was the brainchild of three senior men – Frank Crites, Nofle Renneker, and Milton White.
In 1962, Crites recalled that members of the Class of 1912 wanted to leave a "most lasting gift," so "it was decided that a rock as large as could possibly be transported would be a fixture for many years in the future."
Thursday of graduation week, Crites and recent graduate Austin Marshburn '10, who provided the horses and wagon, started for Sierra Madre at about 3 a.m. Renneker and White rode over later on their bicycles, an eighteen-mile trip one way.
In a canyon at the foot of Mount Wilson trail, the foursome picked out a one- or two-ton granite boulder on the hillside, dug trenches beneath it for the wagon wheels, and eased the rock down the hill and onto the wagon. Renneker and White headed home by bike while Crites and Marshburn started ponderously down the lonely, dusty road with the huge rock in the wagon. They finally arrived at the campus with their prized rock about 2 a.m.
In an unexpected counter-prank, members of the junior class dug a hole and buried the unguarded rock, leaving only ten inches visible above the ground. 
Today, the Rock stands as a symbol of the College's tight-knit community - painted several times a week by individuals or student organizations to celebrate birthdays, share congratulations, mark milestones, express solidarity, or memorialize beloved Poets. 
Whittier Pets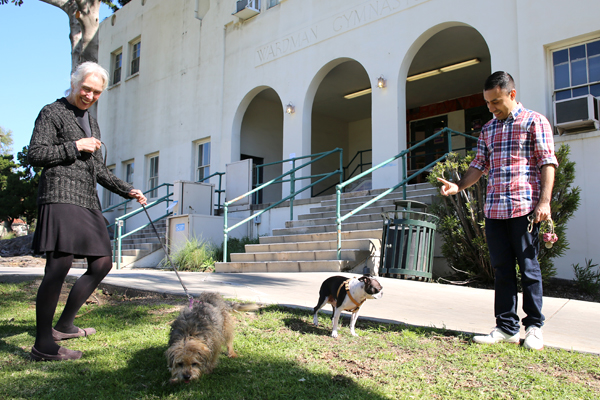 Rusty. Louise. Bodhi. Mimi. They're all as much a part of our tight-knit community as any human Poet and they've probably accumulated as many units as any Whittier graduate, too! That's because here at Whittier, well-behaved canine friends accompany their owners to class or to the office, participate in campus events, and stay active on our vast lawns. At Whittier, you're never far from some rejuvenating puppy kisses or a warm doggy hug. In fact, it has become campus tradition to stop by Dezember Alumni House during finals week for a good luck cuddle from a team of therapy dogs.