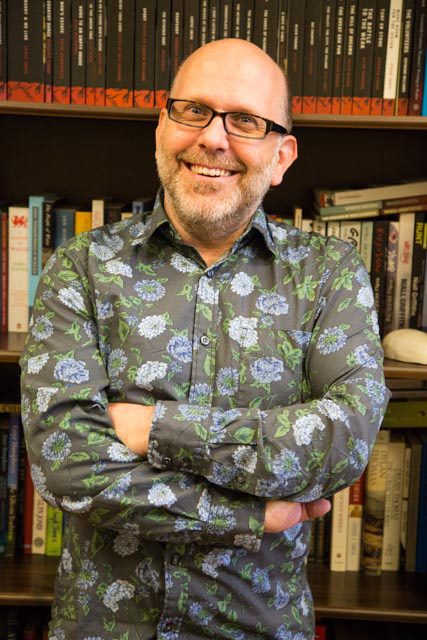 Professor of English
Albert Upton Endowed Chair in English Language and Literature
Department of English Language & Literature
562.907.4200, ext. 4317
dpaddy@whittier.edu
Academic History
B. Ph. Interdisciplinary Studies, Western College, Miami University
M. A., American University
Ph. D., University of Maryland, College Park
Academic Interests
Modern and Contemporary British Literature, British Studies, J. G. Ballard, Welsh Language and Literature, Black British Culture, Postmodernism, Experimental Fiction, Critical Theory, and Science Fiction
Bio
Born in Brussels, Belgium to British parents, Professor dAvid iAn pAddy was raised somewhere between southern England and the American Midwest (roughly in the depths of the Atlantic Ocean). This background experience wed to an undergraduate degree in interdisciplinary studies subsequently shaped all of his academic interests and approaches to teaching. As an undergraduate, he wrote a thesis on the burgeoning field of postmodernism as seen in the disciplines of art, literature, sociology and physics. His later dissertational work was on anxieties of national and imperial decline in the development of British literary postmodernism. Since then pAddy has acquired interests in black British literature and Celtic studies, in particular the language, literature and history of Wales.
Over the years he has published essays on Angela Carter, Niall Griffiths, Jackie Kay and Jeff Noon, a chapter titled "Key Critical Concepts and Topics" for The Modernism Handbook (eds. Philip Tew and Alex Murray) for Continuum, as well as a co-authored piece with Seamus Lagan on chaos theory for the Journal of College Science Teaching. Of many conference presentations the most recent have been "At Home in the Dark: R. S. Thomas and Samuel Beckett" at the International Conference on Welsh Studies, University of Toronto and "Empires of the Mind: Autobiography and Anti-Imperialism in the Work of J. G. Ballard" at the International Conference on J. G. Ballard, University of East Anglia, Norwich. A revised version of the latter essay is scheduled to appear in Jeannette Baxter and Rowland Wymer's volume, From Shanghai to Shepperton: Critical Essays on J. G. Ballard, for Palgrave Macmillan. The major project of the moment is The Empires of J. G. Ballard, a book-length study on Ballard's approach to colonial, imperial, and geopolitical themes, to be published by Gylphi press.
As a teacher, pAddy obsesses over ways of constantly reinventing his pedagogical methods. He loves pairing courses and has spoken at conferences on the performative aspects of pedagogy as well as the blissful advantages of pairing. He has been recognized with two teaching awards, the Carnegie Foundation for the Advancement of Teaching California Professor in 2006, and the Nerhood Award for Teaching Excellence at Whittier College in 2005.
When not teaching or writing, he is most likely playing or listening to music. A life-long guitar player and record buyer, his ideal life would have been spent working in a record store had they not all disappeared. For some reason, he will not explain why his name looks so funny.
Professional Activity
Ph. D. 1997. University of Maryland, College Park, English. Thesis: No Future: British Postmodernism at the End of the World. 1997.
M. A. 1993. American University, Literature. 1993.
B. Ph. 1989. Miami University, Interdisciplinary Studies. Thesis: The "History" of Postmodernism: The Story of How Our Hero, Jean Baudrillard, Found the Kingdom of Neon.