Wardman Hall
On
6 May, 2013
By
admin
0 Comments
Quiet and intimate, Wardman Hall is co-educational and home to 26 students in 14 dorms. Double rooms are 15' x 15'. Classrooms make up the ground floor; the lounge has a pool table and fireplace. Wardman is a quiet, close community, and is next to the Wardman Gym which features our art department. This dignified hall also houses the Whittier Scholars Program and classrooms.
History
Wardman first opened in 1924. The major donor was Aubrey Wardman a Whittier area pioneer of the oil and telephone industries during the early part of the twentieth century, who also served on the Whittier College board of trustees. The building was once the residence of Harry Nerhood, an outstanding faculty member in whose name an annual award is given to a faculty member in recognition of extraordinary teaching abilities.
The fireplace mantle in the interior lounge includes an historic mural depicting the work of the Society of Friends, the religious denomination that founded Whittier College. Painted by Richard Harris '34, its central portion depicts Quaker relief work in France during World War I, flanked by two additional scenes showing William Penn with the Indians and Levi Coffin with a runaway slave.
---
Resident Advisor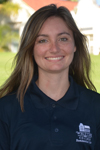 Name: Hailey Holmgren '16
Major: Child Development or Education
Hometown: San Diego, CA
Activities: Jumpstart
Hobbies: Hula Hooping
After college I want to be: A principle.
My favorite thing in the world is:  Kind people.
Welcome Wardman residents to this super dorm! I hope we will have a great year and be a close community. I will be around to help you out in any way I can.