Active Learning
On
3 May, 2013
By
admin
0 Comments
At Whittier College, education goes beyond the confines of campus. Here, we know that classroom learning needs to be practically applied both for career training as well as civic involvement, and so getting out into the community – to fulfill an internship, engage in community service, or pursue a fellowship - is crucial for intellectual and character growth.
Internships & Community Service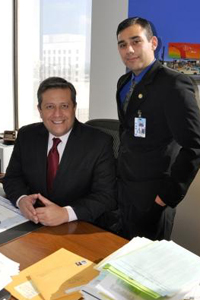 Whittier's location in Southern California, close to Los Angeles and Orange County, gives students internship opportunities that will help them gain crucial business training and experience valuable for their post-Whittier lives.
Industries ranging from entertainment to finance, aerospace to bioengineering, and more all call Southern California home. Merrill Lynch and First Heritage Bank, Sony Pictures and New Line Cinema, EMI Music Publishing, the J. Paul Getty Museum, A.B.S. Designs by Allen Schwartz, Southern California Edison, and Valvoline are just some of the places that our students have interned. Whittier students often travel further afield as they gain invaluable work experience, whether interning at the Department of Education in Washington, D.C., the United Nations in Geneva, or the Steppenwolf Theatre in Chicago.
At the same time, civic involvement is immensely important at Whittier. Our Center for Engagement with Communities brings together faculty, students, and staff from all sectors of the College to partner with non-profit organizations and local government in Whittier and the neighboring communities. On average, 300 to 400 of our students work in the community—in internships and classes, or in volunteer service. From tutoring at local schools and youth clubs, to serving as docents at museums, to conducting research for local hospitals, to working with environmental groups protecting the Whittier Hills, to traveling to New Orleans to help in the post-Katrina clean-up and rebuilding, our students are vitally involved in the local and global community.
Studies show involvement in community engagement and internships has real value for students.
Interns are 70 percent more likely to be hired full time employees within any company.
Median salaries for students with internship experience are 31 percent higher than those without internship experience.
Students who participated in civic engagement have enhanced problem-solving skills, ability to work in teams and planning abilities.
These are key opportunities for current college students that will make a lifelong difference.
Learn more about the internship process at the Center for Career Planning & Internships website. And to locate volunteer opportunities in and around Whittier College, please visit the Center of Engagement with Communities.
Fellowships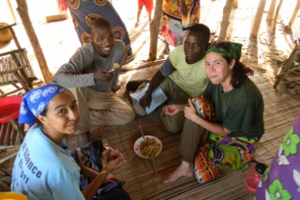 Each year, Whittier students compete for and win scholarship and fellowship awards that help them attain financial support to actualize their college and post-college plans – whether those plans involve graduate school, international research, public service, and so on.
To date, four Whittier graduates have earned a Rhodes Scholarship, two were named Thomas R. Pickering Foreign Affairs Fellows, and several have become Fulbright awardees.
Fellowships is committed to helping student launch their search for internal, national, and international fellowships that meet their intellectual, professional, and personal goals. 
To find fellowships that match your interests, visit the Fellowships website.