Whittier Welcomes New Students
August 24, 2022
Whittier College was once again abuzz with activity as hundreds of new Poets were welcomed to campus earlier this week. 
New Student Orientation kicked off on Monday, August 22 as students and family members participated in events throughout campus. This year, the Orientation team created programming designed to assist new students with their transition to Whittier College. The program provided an introduction to academic resources and student services as well as opportunities for new students to meet members of the Whittier College community. 
This year's class includes students from all parts of California, as well as other U.S. states, including Washington, Hawaii, Nevada, Arizona, Colorado, and Illinois. In addition, 22 countries are represented, including students from India, Peru, Nepal, Netherlands, Brazil, and Saudi Arabia. The new Poets range in age from 17 to 59 and include 276 first years, 96 transfers, and 136 student-athletes.
On Tuesday evening, the new students participated in their first Poet rite of passage: The President's New Student Convocation, which includes the College's symbolic Light of Learning ceremony. Looking out at the crowd President Linda Oubré urged students to make the most of their time at Whittier College.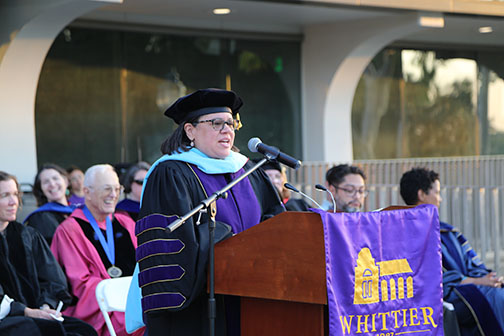 "I can't even begin to tell you how wonderful it is to see all of you here today," said Oubré. "You are embarking on what will become the most transformational time of your life. I know, it's been a wacky few years filled with uncertainty. But you should embrace this time. You are strong and you are resilient. And you are ready for the challenges that life will throw your way. That is what college is about…it's about preparing you for the uncertainty of the future. Know that you will thrive, and you will come out on the other end, ready to take on the world!"
Classes for the fall semester began today, August 24.