Revamped Baseball Stadium Complete
February 6, 2018
The Poets will kick off the spring semester with the newly renovated Adam Elberg Field and Hugh B. Mendez Baseball Stadium. After months of construction, the grand opening of the baseball stadium took place with a dedication ceremony attended by guests, supporters, and alumni from across the country.
"Athletics is such an important part of college life and it prepares students for so many wonderful life skills," said Whittier College President Sharon Herzberger during the ceremony. "We are thrilled that our coaches are such good educators, but we couldn't do all of this without the support of so many people who have contributed to our athletic program today and over the years."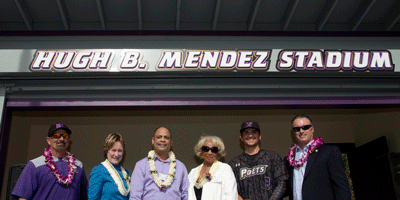 A leadership gift from Adam Elberg '91 supported the renovations and provided a new entrance gateway to the field as well as a covered, three-tunnel batting cage, including lights and bullpens down the left field line.  
Keith Gendreau '80 and his wife Allison's contribution helped provide a permanent grandstand, press box, and surround sound PA system. The new stadium is named in memory of former Whittier College coach, Hugh B. Mendez, who was inducted into the Purple and Gold Hall of Fame in 2014. 
"We are fortunate to have over 1,000 individuals who believe in the impact of the collegiate athletic experience and choose to support our teams and student-athletes each and every year," said Executive Director of Athletics Robert Coleman. "Your generosity is not lost on our student-athletes. They know that when they come to Whittier, they are standing on the shoulders of those that came before them."