Remembering Professor Les Howard
July 7, 2017
A memorial service to celebrate the life of beloved Professor Emeritus Leslie Howard '62 was held on 
---
Professor Emeritus of Sociology Leslie "Les" Howard '62 passed away on the afternoon of July 6 after a prolonged illness. He was 77.
A beloved professor at Whittier College since 1981, Howard's academic expertise was in the relationship between the organization of work and other aspects of people's lives, as well as in U.S.-Mexican border society and culture.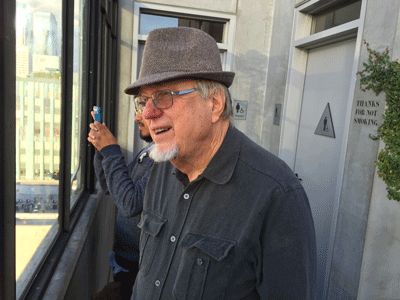 Howard impacted the lives of thousands of Poets during his long tenure at Whittier. 
"I know he will be sorely missed by his friends and colleagues, as well as Whittier alumni. When I meet with Poets across the country, I often hear about Whittier faculty and staff who profoundly influenced their lives. Les is mentioned more times than I can count. His moral sense, compassion, and commitment to educating students to confront injustice will be long remembered," said President Sharon Herzberger.
One of Howard's most popular offerings was the JanTerm course, Workshop in Urban Studies. For more than 20 years, he taught the class out of his living room in Uptown Whittier and used the Los Angeles area as a living classroom. Excursions were a signature part of the course; they were designed to force students out of their comfort zones, led to exploration of different neighborhoods, the inner city, and even Skid Row. Public transportation was the method of travel, encouraging full immersion into the surrounding communities. These experiences sparked intellectual discussions about the issue of poverty, homelessness, gentrification, and overall urban development.
In 1989, the College honored Howard with the prestigious Harry W. Nerhood Teaching Excellence Award. The recognition was a reflection of not only his brilliance in the classroom but his devotion to mentoring and advising young people. 
Trustee Miguel Santana '91 was one of Howard's students and a life-long mentee. "I am proud to be a disciple of Les Howard and will always carry with me his teachings, voice, and love," said Santana. "There are thousands of 'Lesians' in the world who bring him with us when we confront an injustice, seek to understand 'the Other' or simply engage in discourse on the issues that matter. Les represented the best of Whittier College's mission and impact in our community."
An Alhambra, Calif. native, Howard earned his bachelor's in sociology and political science at Whittier College. During that time, he studied abroad at the University College of Ghana, focusing on sociology, economics, and African ethnography. Howard would have celebrated his 55th class reunion this year and was a devoted organizer of class of '62 celebrations. 
He earned a master's degree and Ph.D. in sociology at Harvard University. During that time, he was a research assistant at Harvard and Princeton Universities. In 1967, he began teaching sociology at the University of Michigan. In the 1970s, he taught at the University of Toronto and became a research associate in sociology at Harvard Medical School. From the mid-1970s to 1981, he also consulted for universities, Boston College, research organizations, and the Social Planning Council of Metropolitan Toronto.
While teaching at Whittier, Howard spent time in Mexico and Canada studying the Mexican-Canadian relationship since the establishment of the North American Free Trade Agreement (NAFTA).
A resident of the City of Whittier, Howard was frequently seen at community events and was an active volunteer with First Day, H.O.T., and the Peace and Justice Coalition, among others.
"He was more than a professor; he was our fearless community advocate," said Perla (Hernandez) Trumkul '96, who considered Howard a member of her family. "He talked and walked his profession.It was always more than teaching from a book, it was a living [his beliefs]." 
Remembrance
Howard made a generous commitment to donate part of his estate to establish the C. Wright Mills Chair in Sociology at Whittier College. Contributions in his honor would help fulfill this goal. Gifts can be made online or sent by mail to Whittier College, Office of Advancement, 13406 E. Philadelphia Street, P.O. Box 634, Whittier, CA 90608.