Center for Advising & Academic Success
On
22 Apr, 2013
By
rrafferty
0 Comments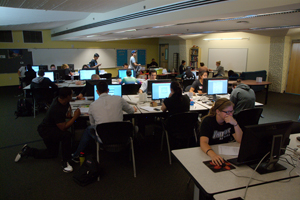 Welcome to the Center for Advising & Academic Success​ (CAAS).
First Year and Transfer students please call CAAS with any questions regarding registration or the New Student Orientation check list.
CAAS empowers all Whittier College students to become successful, self-directed, and collaborative lifelong learners.
Whether you are looking for short or long term assistance with your educational objectives – through tutoring, workshops, advising, coaching, or whether you are simply looking for a space to work on an assignment - our support services and holistic learning environment meet the needs of anyone who is willing to work towards building and sharpening their academic and personal goals.
Contact
Center for Advising and Academic Success (CAAS)
Computer Commons, Ground Floor of Wardman Library
562.907.4816
caas@poets.whittier.edu
CAAS Summer Hours
Monday-Friday, 8:30 a.m. - 5:00 p.m.
Saturday & Sunday, Closed