Nixon Fellowship Program
On
7 May, 2013
By
rrafferty
0 Comments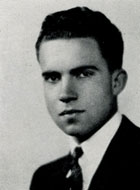 Created to honor Whittier College alumnus (Class of 1934) and former United States President Richard M. Nixon, the Nixon Fellowship Program is designed to prepare exceptional students for informed citizenship and service through internships, scholarship, and research opportunities that echo Nixon's successful legacy in domestic and foreign policy. Students named Nixon Fellows will develop leadership skills, increase international understanding, and experience the rewards inherent in a career dedicated to the public good.
Nixon Fellowship award amounts will vary, depending on the project scope and timeframe, and may be attached to other independent academic opportunities, such as study abroad. A distinguished board of advisors reviews student applications for the program, and recommends candidates according to the nature and focus of the proposed project, and based on established academic criteria. Nixon's former U.S. Secretary of State, Dr. Henry Kissinger, is an honorary member of this fellowship advisory board.
Eligibility Criteria
For 2013-2014, The Nixon Fellowship Program seeks:
Students who are currently Whittier freshmen, sophomores or juniors
Students must have a graduation date of May 2014 or later
At the time of application, students must have a 3.2 or higher cumulative GPA.
Applicants must be in good academic and social standing at the time of application (cannot have any active Student Life sanctions)
 
One Whittier College student will be selected to be the 2013-2014 Nixon Fellow and engage in a self-designed program of focused learning and applied experience. The Nixon Fellow will receive a $5,000 stipend toward the completion of an internship experience and his/her project(s) during the year. The funds for the Nixon Fellowship Program are made available through gifts from friends and alumni of Whittier College.
Applying to the Program
For the 2013-2014 academic year, Whittier College Nixon Fellowship submissions will be accepted in Spring 2013.
A complete application will include:
A completed 2013-2014 Nixon Fellowship Program Application form 
A Learning Proposal following the prescribed format 
A copy of your unofficial academic transcript
A copy of your current resume
 
Application Deadline: Applications should be submitted to directly to Linda Ross, director for the Center of Career Planning & Internships, by 5:00 p.m. on Friday, March 8, 2013.
Current Fellows 2013-2014
Daniel Jacob Kulick '13, Presidential Inauguration Fellow
Carlee Scults '14, Presidential Inauguration Fellow
Past Fellows
2012-2013
Mario Obando '13
2011 – 2012
Award Poonam Narewatt '14
2010 – 2011
Award Melissa Samarin '11
2009 – 2010
Alex Tallarida '10
2008 – 2009
Caitlin Finley '09
2008 - 2009 Presidential Election Year Awardees
National Political Convention Fellows: Steve Addezio '09 & Dan Strauss '09
Presidential Inauguration Fellows: Neslie Tumulac '11 & Teresa Baranowski '10
2007 - 2008
Hansen Hunt '08 & Nicole Greer '08
Who to Contact
Professor Mike McBride
Political Science
Platner 103
562.907.4854
mmcbride@whittier.edu
Linda Ross
Director, Center for Career Planning & Internships
562.907.4230  
lross@whittier.edu