Whittier College Undergraduate Summer Courses 2014
On
1 May, 2013
By
admin
0 Comments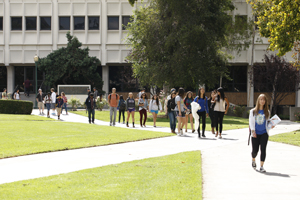 The Whittier College Summer Program offers traditional classroom instruction as well as fully online courses. Courses are scheduled with individual dates of instruction and may overlap other offerings. Please pay close attention to the start and end dates for each class.
Members of Whittier College faculty and select adjunct instructors teach Summer Program courses. All courses satisfy requirements for Whittier College academic credit and may be applied toward degree requirements. The maximum number of credits for which a student may register during the summer is 13. All courses are transcripted using semester credit hours.
Whittier College students:
Register using My.Whittier.edu, Registration tab, Add and Drop Classes link, unless otherwise noted.
Some classes may require you to accept the Start Date on the Registration Start Date Confirmation page. Click the Submit Changes button to acknowledge the Start Date for your class and continue.
Use the Registration Fee Assessment link at the bottom of the Add or Drop Classes page to see your balance due.
Use the Credit Card Payment link at the bottom of the Registration Fee Assessment page to pay your fees. Alternatively you may submit payment to the Business Office located in Mendenhall.
Students Visiting from other Institutions:
Complete an Application for Non-Degree Admission, which is available online here or at the Registrar's Office front desk in Mendenhall.
You will be notified of admission via email and provided additional registration instructions.
Registration and fee payment deadlines vary by class. See descriptions below for details.
---
On Campus Courses
CHIN 150 Chinese Cinema (Register Online CRN 50010)
Assistant Professor Kenneth Berthel
​(July 21- August 15; Registration and fee payment deadline: July 1)
This course will introduce all three main traditions of sinophonic cinema (Mainland, Hong Kong, Taiwan) from the silent film era to the present. Films will be used as a point of entry into larger discussions and analyses of relevant cultural, aesthetic, and socio-political topics. Major goals of the course include developing visual literacy and cultivating an ability to think about and understand meaning through cinematic expression. Students will be responsible for viewing films analytically and providing critical responses to them both orally (class discussions) and in writing (papers). No background in China or Chinese is required. Satisfies the CUL2 requirement, 3 credits, $2563.
MATH 079 Quantitative Reasoning (Register Online CRN 50008)
Visiting Assistant Professor Regina Faradineh
(July 21- August 15; Registration and fee payment deadline: July 1)
This course is designed to help students develop their ability to create, analyze, and communicate quantitative and scientific arguments. It will emphasize critical thinking and problem-solving skills while also giving students practice in computation and symbolic manipulation. Topics to be covered include elementary linear equations, polynomial modeling, working with and understanding graphs and graphical presentations, and elementary probability and statistics. These topics will be presented in the context of applications and models from various disciplines. Prerequisites: ACT Math ≥ 21, SAT Math ≥ 500, WC Math Placement Test score ≥ 1, or completion of MATH 074 or 076 with C- grade or better. Satisfies the COM1 requirement, 3 credits, $2550.
---
INTD 303: Ways of Knowing: Exploring the City of Angels (Register Online CRN 50007)
Professor Jennifer S. Holmes
(May 26-June 20; Registration deadline: May 19)
As an expansive team-taught course with faculty, and guest artists from various disciplines including: business, education, mathematics, music, political science, psychology, and theatre, students will be immersed in understanding topics and theories from multi-disciplinary perspectives.  Specifically students will compare and contrast FORM, FUNCTION, AUDIENCE, INTENTION, and MEANING through multiple disciplines and forms of artistic expression; grasping how different disciplines approach a similar experience is central to this class.  At its core, this course is steeped in the theory of multiple intelligences posited by Howard Gardner in Frames of Mind.  Classes are designed to be experiential in nature and will incorporate discussions, lectures, film screenings, workshops, visiting guest artists, and excursions to various museums and live performances in the Greater Los Angeles area.  Upon completion students earn 6 credits and fulfill CON1 and CUL6 requirements. 6 credits, $5500.
---
Online Courses
ART 204: Digital Photography Workshop (Register Online CRN 50002)
Assistant Professor Danny Jauregui
​​(August 5 - August 28; Registration and fee payment deadline August 4)
This course will acquaint students with the fundamentals of Digital Photography including traditional and experimental uses of Adobe Photoshop. Emphasis will be placed on visual communication of ideas through the medium of digital photography. Instruction will cover topics such as manual camera operations, basic image correction, digital image manipulation, and will also cover fundamentals of composition and 2-D image organization. The assignments will include consideration of the cultural/political impact of digital manipulation, the relationship between subject and photographer, and the historical implications of photographic objectification. No Prerequisite is required, however previous enrollment in Drawing 1 or Introduction to Art 2-D is recommended. Satisfies the COM3 (Creative and Performing Arts) requirement, 3 credits, $1800.
INTD 130: Cancer Biology (Register Online CRN 50004)
Assistant Professor Sylvia Vetrone
(July 21 - August 22; Registration and fee payment deadline July 20)
This course will provide students with the basic biological understanding of the biology of cancer. This understanding will include an introduction into the cellular biology, diagnosis, treatment, prognosis, and prevention of various types of cancers. This course will also provide students with an introduction of the history of cancer in American Society, by exploring medical case studies that go as far back as 1800's and extend into today. We will also be discussing the various social and cultural views. Satisfies the CON2 (Science and Society) requirement, 4 credits, $2400.
---
ART 205: Western Art: Pre-history through the 14th Century (Register Online CRN 50006)
Instructor Lori Rusch
​​(June 2 - July 22; Registration and fee payment deadline June 1)
Surveys art beginning with the Paleolithic age through the ancient civilizations of Mesopotamia, Egypt, Greece, Rome, Medieval Europe, and Byzantium up to the early Renaissance. Stresses cultural context and style. Satisfies the CUL4 (European Cultures) requirement, 3 credits, $1800.
THEA 206: Chicano/Latino Theater (Register Online CRN 50003)
Associate Professor Gil Gonzalez
(June 2 - June 30; Registration and fee payment deadline June 1)
Traces the contextual, thematic, and historical influences of Chicano/Latino theatre. Analysis of plays, performances, movements, and theatre troupes that express the experiences of the Chicano/Latino people. Satisfies the CUL3 (Latin American Cultures) requirement, 3 credits, $1800.
BSAD or INTD 290: Finance and the Brain (Register Online CRN 50013 or 50012)
Assistant Professor Fatos Fadoniqi
(May 19 - June 16; Registration and fee payment deadline May 18)
While conventional economic theory assumes investors are strictly rational, in practice, people do irrational things all the time for example, many people gamble away money, doubling down instead of quitting. Others let their winnings ride when any rational person would cash out. this implies that asset prices are not completely driven by economic fundamentals and that investors' "animal spirits" constitute an important source of price fluctuations. The prevalence and the devastating impact of "market psychology" which has led to numerous financial crisis, market bubbles, and panics in the world economy, has led researchers to incorporate brain science to explain how our primal circuits can, and often do, override your reason when it comes to financial decisions. This course answers two questions: What are the deep irrational forces, psychological and social factors driving investors' behavior and what can be done to better manage them? Satisfies the CON2 (Science and Society) requirement, 4 credits, $2400.
ANTH 210: Introduction To Cultural Anthropology (Register Online CRN 50005)
Visiting Assistant Professor Teresa Delfin
​(June 16 - July 14; Registration and fee payment deadline June 15)
Detailed studies of several societies that are geographically and culturally distant from mainstream American society. The course focuses on issues of ecology, political economy, and social and cultural change as they influence the diverse behaviors and traditions of selected peoples. Several regions are studied in the context of their global and internal similarities and differences, as well as their cross-cultural and internal dynamics. Satisfies the CUL6 (Cross-Cultural) requirement, 3 credits, $1800.
---
Add/Drop and Withdrawal Schedule for Summer 2014 Undergraduate Enrollment
Instructors may drop students for non-attendance through 25% of class duration. It is the student's responsibility to drop classes before published deadlines. Classes not dropped by the deadline are subject to grading and full fee liability.
Drop by 25% of class duration to not receive a grade
Withdraw after 25% of class duration to receive a W-grade on transcript
No withdrawal or leave of absence is granted during the last week of any course.
---
Fee Payment and Refund Schedule for Summer 2014 Undergraduate Enrollment
Fees must be paid in full before the class Start Date unless otherwise noted above. Note: Some classes have early registration and payment deadlines. Enrollments are canceled for non-payment of fees by the deadline. Late payment and registration reinstatement incurs a $100 penalty.
100% of fees are refunded for classes dropped before 25% of class duration
50% of fees are refunded for classes dropped before 50% of class duration
0% of fees are refunded after 50% of class duration
---
Transcripts for Summer Classes
Please refer to the Registrar's Office Transcript page for information on how to order an official transcript of your Whittier College coursework.