Whittier College Undergraduate Summer Courses 2015
On
1 May, 2013
By
admin
0 Comments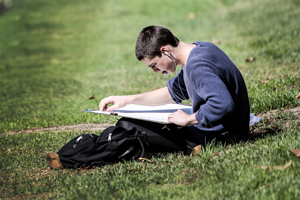 The Whittier College Summer Program offers traditional classroom instruction as well as fully online courses. Courses are scheduled with individual dates of instruction and may overlap other offerings. Please pay close attention to the start and end dates for each class.
Members of Whittier College faculty and select adjunct instructors teach Summer Program courses. All courses satisfy requirements for Whittier College academic credit and may be applied toward degree requirements. The maximum number of credits for which a student may register during the summer is 13. All courses are transcripted using semester credit hours.
Whittier College students:
Register using My.Whittier.edu, Registration tab, Add and Drop Classes link, unless otherwise noted.
Some classes may require you to accept the Start Date on the Registration Start Date Confirmation page. Click the Submit Changes button to acknowledge the Start Date for your class and continue.
Use the Registration Fee Assessment link at the bottom of the Add or Drop Classes page to see your balance due.
Use the Credit Card Payment link at the bottom of the Registration Fee Assessment page to pay your fees. Alternatively you may submit payment to the Business Office located in Mendenhall.
Students Visiting from other Institutions:
Complete an Application for Non-Degree Admission, which is available online here or at the Registrar's Office front desk in Mendenhall.
You will be notified of admission via email and provided additional registration instructions.
Registration and fee payment deadlines vary by class. See descriptions below for details.
---
ART 204 Digital Photography Workshop (3 Credits)
This course will acquaint students with the fundamentals of Digital Photography including traditional and experimental uses of Adobe Photoshop. Emphasis will be placed on visual communication of ideas through the medium of digital photography. Instruction will cover topics such as manual camera operations, basic image correction, digital image manipulation, and will also cover fundamentals of composition and 2-D image organization. The assignments will include consideration of the cultural/political impact of digital manipulation, the relationship between subject and photographer, and the historical implications of photographic objectification. No prerequisite, however previous enrollment in Art 100, 101, or 210 is recommended.
Asynchronous. Satisfies the COM3 Lib-ed requirement.​
ART 205: Western Art: Pre-history through the 14th Century (3 Credits)
Instructor Lori Rusch​
Join us for an asynchronous adventure in this  "Cave to Cathedrals" art history class. We will survey art beginning with the Paleolithic age through the ancient civilizations of Mesopotamia, Egypt, Greece, Rome, Medieval Europe, and Byzantium up to the early Renaissance. You will learn how to place art and architecture in context from wherever Din the world you are this summer!
Asynchronous.  Satisfies the CUL4 (European Cultures) requirement.
BSAD 291 - Creativity
Although most people can agree that creativity is an important concept, there is often very little agreement about what creativity is and how we can achieve it. This course surveys basic theories of creativity with the goal of applying this knowledge to the development of creativity in organizations and society. It focuses primarily on (1) the neuroscience of creativity, (2) cognitive theories about creative thought, (3) personality theories about exceptionally creative individuals (4) social-psychological theories about creative groups, and (5) the points at which these approaches interact.
Asynchronous and synchronous. May 5 through June 12. 
BSAD 292 - Leadership
This course explores the complex process of "becoming a leader" by systematically uncovering beliefs and myths about leadership and rigorously examining how they hold up to the scrutiny of critical thinking, analysis, and research. The course examines leadership across several levels of analysis where biological and developmental underpinnings of leadership will lay the foundation for thinking critically about how leaders emerge and what makes them effective.  We begin the course by examining theory and research that asks whether leaders are born or made and discuss papers that empirically examine how much genetics influences leadership relative to environmental factors.  We will then discuss how basic cognitive processes of perception and attention influence how people behave, make decisions, and learn.  Following these discussions we will explore what effective leadership means at the individual, group, organizational, and societal level and the points at which these approaches interact.
Asynchronous and synchronous. May 18 through June 12. 
FILM/THEA 170 - Fundamentals of Cinema (3 Credits)
This course provides an introduction to the aesthetics and language of film. It also understands film as an artistic expression, an economic product, and a social text. Lectures and discussions are supplemented by class screenings
HIS 359 North American Environmental History (3 Credits)
This course will explore the history of North America through an ecological lens.  The time span is immense (for historians but not so much for scientists), covering the earliest human migrations into the Americas until the expansion of modern industrial agriculture in the late nineteenth century.  The focus is also wide-ranging, tracing the evolution of environments (including disease vectors, flora and fauna pathways, and energy/food systems) and their interaction with human-driven ideas, politics, and cultures. It also concludes focusing on California as a case study illustrating these themes, allowing students to locate the intersection of environment, history, and public policy in their own backyard.  
Asynchronous and Synchronous (Fridays 10-11 AM). Prerequisite: 200-level History course. Satisfies CON 2 lib-ed requirement.
INTD 130. Cancer Biology (4 Credits)
The main learning objective for this course is to increase your basic scientific understanding of the biology of cancer, as well as understanding of the societal and cultural perspectives of cancer within the United States.  This understanding will include an introduction into the cellular biology, diagnosis, treatment, prognosis, and prevention of various types of cancers.  In addition, you will be introduced to the history of cancer in American society, the politics that surround cancer research and advocacy, and exploring medical case studies that go as far back as 1800's and extend into today.  By the end of the course you should have a new appreciation of how social and cultural perspectives shape, influence, and drive the advancements of current and future cancer research.
Asynchronous and Synchronous. Synchronous Online Live Lectures will take place twice a week. Time will be determined through a Doodle Poll during the week of May 4, 2015.
INTD 279 Disasters (4 Credits)
This course will begin with an exploration of the philosophy and history of science. A discussion of the scientific method will then lead into an investigation of the science of natural disasters. Students will learn about the theory of plate tectonics, and then apply this knowledge to detailed studies of earthquakes, volcanoes, and tsunami. Other disasters, such as hurricanes, will also be examined. Prediction and mitigation will be explored for each disaster that is discussed. The study of the effect of natural disasters on human societies will be an integral part of this course.
Asynchronous and synchronous. Synchronous online discussion sections will be held twice a week. The time for these discussion sections will be determined through a Doodle Poll the week of 4 May 2015. Satisfies the CON 2 liberal education requirement.
INTD 270 Introduction to Public Health (4 Credits)
In this course we will explore what public health is (and what it is not), the science and data that underpin it, and how it is a part of our social fabric. We will explore some of the causes of disease, and other societal threats to health. And, because public health is intertwined with medical delivery services, we will explore health care systems. While our focus will be on what is happening within the United States, we will take the opportunity to explore things that are different in other parts of the world, as well.
Asynchronous and synchronous. May 18, 2015 through June 12, 2015. Synchronous Online Live Lectures/Discussions will be held four times a week. Time will be determined through a Doodle Poll during the week of May 4, 2015. Satisfies the CON 2 liberal education requirement.
INTD 299 – Internships (1-3 Credits)
INTD 299 is intended to support the core learning that takes place while a student participates in an academically-related internship. Course content and assignments will enable students to reflect on their day-to-day, hands-on experience, enhance existing skills, acquire new skills, apply content and theory learned in coursework (major, minor and liberal education), create professional contacts, strengthen their resumes, and learn from professionals in the field.
Asynchronous. July 1 through July 31.​
INTD 309 / BSAD 309: Finance and the Brain (4 Credits)
While much of financial theory is built on the premise that investors and managers are strictly rational, empirical research has shown this paradigm to be insufficient to describe various features of actual financial decision-making. This indicates that asset prices may not be completely driven by economic fundamentals and that investors' "animal spirits" constitute an important source of price fluctuations. The prevalence and the devastating impact of 'market psychology' in the overall economy, has led researchers to incorporate brain science to explain how our primal circuits can, and often do, override our reason when it comes to financial decision-making. This course answers two questions: What are the deep "irrational" forces driving investor behavior, and what can be done to better manage them.
Asynchronous and synchronous. Synchronous Online Live Lectures/Discussions will be held once a week. Time will be determined through a Doodle Poll. Satisfies the CON 2 liberal education requirement.
SOC 290 - Statistics for Social Sciences (3 Credits)
Data analysis in the social sciences; analysis of distributions, central tendency, variability, correlation, and parametric and non-parametric statistical tests; use of computer packages including SPSS.
Pre-req: MATH 76/score of 2 or higher on the Math Placement.

SOWK (Special Topics) ###: Introduction to Aging (4 Credits)
Instructor: Maria Claver, PhD, MSW, CPG
This course guides students in an exploration of their own aging process as well as issues related to old age. We will use the biopsychosocial framework to guide our examination of both gains and losses associated with aging. Specifically, we will address the effect of aging on physical health, mental health, social roles, and personality. We will also explore larger social, cultural and economic issues including retirement, housing and public policy from a domestic and global perspective.
Asynchronous. May 25, 2015 – July 3, 2015. Satisfies the COM II requirement​
THEA 260 Chicano/Latino Theatre (3 Credits)
Traces the contextual, thematic, and historical influences of Chicano/Latino theatre. Analysis of plays, performances, movements, and theatre troupes that express the experiences of the Chicano/Latino people.
Asynchronous. No prerequisite. Satisfies the CUL3 lib-ed requirement.
​
---
Add/Drop and Withdrawal Schedule for Summer 2015 Undergraduate Enrollment
Instructors may drop students for non-attendance through 25% of class duration. It is the student's responsibility to drop classes before published deadlines. Classes not dropped by the deadline are subject to grading and full fee liability.
Drop by 25% of class duration to not receive a grade
Withdraw after 25% of class duration to receive a W-grade on transcript
No withdrawal or leave of absence is granted during the last week of any course.
---
Fee Payment and Refund Schedule for Summer 2015 Undergraduate Enrollment
Fees must be paid in full before the class Start Date unless otherwise noted above. Note: Some classes have early registration and payment deadlines. Enrollments are canceled for non-payment of fees by the deadline. Late payment and registration reinstatement incurs a $100 penalty.
100% of fees are refunded for classes dropped before 25% of class duration
50% of fees are refunded for classes dropped before 50% of class duration
0% of fees are refunded after 50% of class duration
---
Transcripts for Summer Classes
Please refer to the Registrar's Office Transcript page for information on how to order an official transcript of your Whittier College coursework.