Orientation for First Year Students (Sunday, September 6-Tuesday, September 8 2015)
On
29 Apr, 2013
By
Anonymous (not verified)
0 Comments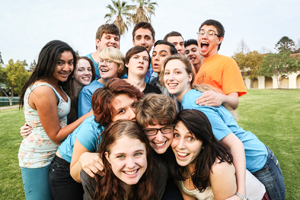 Orientation is your introduction to Whittier College. The program is designed to give you an opportunity to meet faculty, administrators, and, of course, other new students. You will become acquainted with academic and student life programs, as well as the resources, facilities, and services available to you.
Schedule
A memorable and enjoyable Orientation experience awaits our first year students. See a full schedule below.
Arriving in Whittier
Residential and Commuter Students
Sunday, September 6, 2015 is the first day of Orientation. A detailed schedule and list of Orientation events is listed below. The schedule is subject to change, so please check back frequently.
Early Arrivals
 If you plan to arrive in Whittier prior to the start of Orientation, you will be responsible for arranging alternate accommodations as your residence hall room will not be available early. Click here for information about hotels near Whittier College.
Arriving by Air
Super Shuttle is a 24-hour, shared-ride airport shuttle service provided at all major Los Angeles area airports. Super Shuttle can pick you up at the airport terminal and drop you off at the College. Super Shuttle can be reached at 800.554.3146. The fare to Whittier from Los Angeles International Airport (LAX) is approximately $45. Credit cards are accepted.
Sunday, September 6, 2015

8:00 A.M. — 12:00 P.M.

International Student Orientation

Dezember Alumni House

8:00 A.M. — 11:00 A.M.

Residential Student Check-In*

North Lawn

10:00 A.M. — 12:00 P.M.

Commuter Student Check-In*

North Lawn

8:30 A.M. — 3:00 P.M.

Business, Financial Aid, and Admissions Offices are open

Mendenhall Building
& Weingart Hall

11:00 A.M. — 12:00 P.M.

Black Student Union's Family & Student Welcome

Club 88

11:00 A.M. — 12:00 P.M

Asian and Pacific Islander Student & Family Welcome

Villalobos Hall

11:00 A.M. — 12:00 P.M.

Disability Services Meeting

Wardman Library,
Lower Level

11:00 A.M. — 2:00 P.M.

Lunch

Campus Inn

12:00 P.M. — 1:30 P.M.

Latino/Latina Student and Family Welcome

Memorial Chapel

12:30 P.M. — 1:30 P.M.

Commuter Student Information Session

Shannon Center

2:00 P.M. —  2:30 P.M.

 Orientation Kick Off
(Required for All New Students)

Harris Amphitheatre

2:00 P.M. — 3:00 P.M.

Sesión Informativa en Español        

Villalobos Hall

2:30 P.M. — 5:00 P.M.

First Year Meeting With Mentor Groups
(Required for All New First-Year Students)

Various Locations

5:00 P.M. — 6:30 P.M.

New Student Welcome Dinner with Mentor Groups 
(Required for All New Students)

Campus Inn

7:00 P.M. — 7:15 P.M.

Line Up for President's Convocation

Harris Amphitheatre

7:15 P.M. — 8:15 P.M.

President's Welcome and Convocation

Harris Amphitheatre

8:15 P.M. — 10:15 P.M.

Family Reception

Campus Center Courtyard

9:15 P.M. — 10:15 P.M.

First-Year Residence Hall Floor Meetings

Johnson & Stauffer
Residence Halls

Monday, September 7, 2015

7:00 A.M. — 8:00 A.M.

Breakfast

Campus Inn

8:00 A.M. — 9:30 A.M.

Community Building Activity
(Required for All New Students)

North Lawn

9:45 A.M. — 11:30 A.M.

Diversity Speaker
(Required for All New Students)

Graham Athletic Center

11:30 A.M. — 1:00 P.M.

Singing Auditions

Music Building, Room 106

11:30 A.M. — 1:00 P.M. 

Commuter Lunch

Club 88

11:30 A.M. — 1:00 P.M.

Education Department Informational Lunch

Villalobos Hall

11;30 A.M. — 1:00 P.M.

Lunch

Campus Inn

1:00 P.M. — 3:00 P.M.

Faculty Speaker
(Required for All New First-Year Students)

Graham Athletic Center

3:30 P.M. — 5:30 P.M.

Title IX Speaker
(Required for All New Students)

Graham Athletic Center

5:30 P.M. — 7:00 P.M. 

Dinner

Campus Inn

5:00 P.M. — 8:00 P.M.

Whittwood Mall Shuttle

Philadelphia House
Parking Lot

8:30 P.M. — 11:00 P.M.

Stauffer-Johnson Cup Festival

Upper/Lower Quad

Tuesday, September 8, 2015

7:15 A.M. — 8:30 A.M.

Breakfast

Campus Inn

8:30 A.M. — 11:00 A.M.

Taking Care of Business
(Required for All New Students)

Various Locations

11:30 A.M. — 1:00 P.M.

Lunch

Campus Inn

11:30 A.M. — 2:30 P.M.

Music Theory Placement Exam

Music Building,
Room 106

11:30 A.M. — 2:30 P.M.

Singing Auditions

Music Building,
Room 106

1:00 P.M. — 2:30 P.M.

ASWC Meet and Greet

Campus Courtyard

1:00 P.M. — 2:30 P.M.

Work-Study Fair

Villalobos Hall & Club 88

2:45 P.M. — 5:00 P.M.

Introduction to Student Life
(Required for All New First-Year Students)

TBD

5:30 P.M. — 7:30 P.M.

President's Dinner
(Required for All New Students)

Wardman House

8:00 P.M. — 10:30 P.M.

Residence Hall Meetings
(Required for Residential Students)

All Residence Halls
*ALL Students are required to check-in