Commencement
On
9 May, 2013
By
admin
0 Comments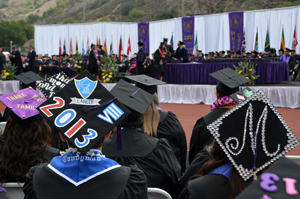 Commencement at Whittier College is a very special event.
We are proud of our graduates and look forward to celebrating their academic accomplishments.
Students, we want to make this a positive and memorable day for you and your family. Please read all the graduation-information provided here thoroughly to get all the needed information related to graduation.
---
112TH Commencement Ceremony, Celebrating the Class of 2015
Friday, May 15, 2015
9:00 a.m.
NEW LOCATION: Graham Athletic Center on the Whittier College campus
Commencement Speaker: Los Angeles Mayor Eric Garcetti
---
Updated: Thursday, May 14, 2015, 3:00 p.m.
Due to anticipated severe weather with the possibility of thunderstorms and hail, and with the safety and enjoyment of graduates and their guests as their top priority, Whittier College officials are implementing the severe weather plan for the 2015 Commencement Ceremony.
Location 
The Commencement Ceremony will take place at the Graham Athletic Center (GAC) at 9:00 a.m. on Friday, May 15.
Tickets 
Admission for Commencement will be by "rain ticket" only and all guests, except children age 3 and under who are able to sit on an adult's lap, must have a ticket. Five rain tickets were distributed to graduates with their cap and gown. Due to limited seating, additional tickets are not available and lost tickets will not be replaced. Doors will open at 7:30 a.m. on Friday, May 15 and ticketed guests are encouraged to arrive early. Balloons or large signs that may obstruct views will not be allowed in the Graham Athletic Center.
Alternate Viewing Options 
The Commencement ceremony will be broadcast in real time at www.whittier.edu/live giving families and friends the opportunity to watch the ceremonies remotely. The Commencement live webcast will be available at two alternate on-campus locations: the Shannon Center for the Performing Arts and Hoover Hall, Room 100. Please refer to the Commencement Parking Map for detailed locations.
Parking 
Parking near the Graham Athletic Center is limited to handicapped guests only. Please plan to arrive early and carpool if possible as parking on campus is limited and will further be impacted by the weather conditions.  Campus Safety officers will be located throughout campus to help direct guests to available parking. Detailed parking information can be found on the Commencement Parking Map.
Instructions for Students and Faculty
Students and faculty should arrive at the Graham Athletic Center's main entrance by 8 a.m. for Commencement.  Ushers will direct them to their line-up location.
Reception
A reception for graduates and their guests will immediately follow the Commencement ceremony at the Campus Inn. Tickets are not required but due to capacity limits, admission will be limited to 684 guests at one time. Shuttle bus service will be available between Graham Athletic Center and the Campus Inn only if it is raining after the ceremony.