Research & Fieldwork
On
30 Apr, 2013
By
admin
0 Comments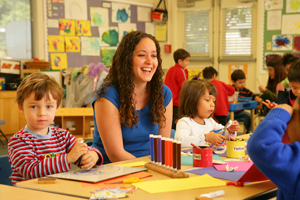 A unique component of Whittier's Social Work Program is that many social work classes have a community partnership as a part of the course.
When a student takes a social work course, he or she is likely to be collaborating with clients and staff of agencies such as schools, mental health centers, family service agencies, and homeless rehabilitation centers. You could be helping a young child learn to read, create a garden with people who experience homelessness, assessing community needs for an agency, working with parents to improve family literacy, developing fair employer practices, or assisting families in locating resources for health and behavioral health.
In each case, you are working for social and economic justice, an essential theme in our college and social work culture.
In addition to the community partnerships, each social work senior interns in a social service agency two days a week for the entire academic year. Seniors become a valued member of an agency's professional staff, providing valuable services to clients as they strengthen their social work knowledge, values and skills.
The following list represents agencies who have employed Whittier students fulfilling their senior year field placement, Social Work Practicum (SOWK 412, 413, & 414).
"A Day Away"
Alma Family Services
A New Way of Life
City of Santa Fe Springs Neighborhood Center
Community Coalition
Department of Children and Family Services of L.A. (DCFS)
Eastman Elementary School
East L.A. Mental Health Services
Intercommunity Child Guidance Center
La Casa Mental Health Rehabilitation Center
La Puente Mental Health Center
Los Angeles Center for Alcohol and Drug Awareness
Metropolitan State Hospital
Progressive Resources
Rio Hondo Temporary Home
SASSFA, Senior Citizen Services
Spirit Family Services
New agencies are added in response to the interests of students and the development of new services.