Lana Nino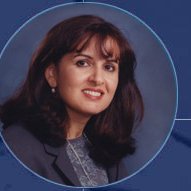 Associate Professor
Department of Business Administration
562.907.4200
lnino@whittier.edu
Academic History
Ph.D. University of California, Riverside
M.S.B.A., California State University, Pomona
B.S., California State University, Long Beach
Professor Lana Nino is an Associate Professor in Business Administration. Nino received a Ph.D. in higher education with a focus on business education from the University of California, Riverside. She has a Master's of Science in Business Administration from California State Polytechnic University, Pomona and holds two certifications as a Certified Public Accountant (CPA) and Certified Information Systems Auditor (CISA).
Nino's research concerns include the institutional environment of business education focusing on business faculty and students and the interaction between the business profession and academia. Her dissertation focused on studying business students, and it was entitled Precursors of Professionalism in Senior-level Undergraduate Business Students and the Implication of these Precursors for Business Education and the Profession. Her other area of research centers around the adoption of the international accounting standards and her work has been published in the American Journal of Business Education and The Business Review Journal. Over the past decade, she has participated in seven conferences including two international presentations in Ireland and Slovakia.
Nino teaches in business administration focusing on accounting topics including financial and managerial accounting, financial reporting and analysis, auditing, and business ethics. Her service to the college included serving on the Educational Policies Committee and the Whittier Scholars Council. She has participated in long-term strategic planning committees formed by the President and the Board of Directors. More recently, she also served on Faculty Executive Committee as Vice Chair of Faculty.
Prior to her academic role at Whittier College, Nino spent six years in public accounting and held chief financial officer positions at two technology companies, as well as other managerial positions in accounting at national firms in Southern California.