Requirements for the Minor in the Liberal Arts of Organizational Leadership Program
On
24 Apr, 2013
By
Anonymous (not verified)
0 Comments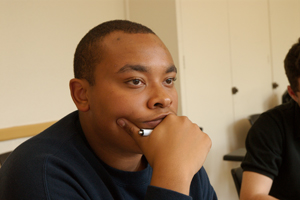 Through a recent grant, the Business Administration Department recently launched its Liberal Arts of Organizational Leadership Program (LAOLP).
The target for LAOLP is to integrate aspects and ideas from other disciplines — namely humanities — into existing business courses, with a goal of developing in students critical business leadership skills and advanced competencies during their undergraduate years.
Students benefit from the synergistic insights of multiple disciplines through the program's course offerings – in disciplines that include philosophy, psychology, environmental science, and theatre – strategically created with assistance from key faculty in business schools and programs at Harvard, Stanford, McGill, and Hartwick.
By bridging a perceptual disconnect between business and the liberal arts, the program enables graduates to have a deeper, more well-informed understanding of leadership and to benefit from the liberal arts as they advance in careers across business, government, and nonprofit organizations after graduation. 
Offered as a minor, the LAOLP is open to all students from Business and liberal arts disciplines alike. The Certificate is earned in three years. 
COURSE OFFERINGS
Fall 2013
INTD 285. Leadership as a Liberal Art
Students will encounter the question, "What is leadership and how does one practice it as a liberal art?"  The focus of this class will be on the integration of the humanities and social science disciplines, using case studies from various fields.  The course will explore executive leadership from three different perspectives texts on: leadership/management and the liberal arts; leadership and strategic thinking; and leadership and personal integrity. One semester, 3 credits.
INTD/BSAD 330.  Management and Organizational Behavior
The systematic study of individual, group, and organizational behaviors and processes. The analyses of these levels of organizational functioning are aimed at enhancing personal and group effectiveness. Topics include the structure of organizations, the values and culture of organizations, motivation, leadership, power, cooperation, decision-making, and organizational change.   INTD 285, BSAD 130, or junior standing.  One semester, 3 credits.
INTD/BSAD 340.  Humanistic Values and Management
This course focuses on the moral dimension of executive leadership, which affects the lives of others both within the organization and outside it. Leadership inherently has moral ramifications, and is inextricably linked to the achievement of collective purpose. By seeking to satisfy authentic needs and to energize the higher aspirations and values of his or her "followers," the effective leader engages the followers' full selves in the common cause.
Pre-requisite: INTD 285 or BSAD 130.  One semester, 3 credits.
Spring 2014 (planned)
INTD/BSAD 330.  Management and Organizational Behavior
INTD/BSAD 355.  Dynamics of Leading Organizational Change
The process of managing organizational change is far from a straightforward endeavor. Organizations ranging from Fortune 500 firms to small entrepreneurial start-ups and government, hospitals, schools, churches, and non-profits of all shapes and sizes have found that they need to change in order to succeed and survive. This course is geared towards developing a better understanding of the challenges, techniques, burdens, and successes (both at the micro- and macro-level) that can result in deep change that strikes at the core assumptions, beliefs, and values held by executives, managers, and organizational participants.  Pre-requisite: INTD 285 or BSAD 130.  One semester, 3 credits.
INTD 480.  Leadership Strategy and Policy
This course is the capstone to the minor and is taken concurrently with the praxis (e.g., internship) requirement. Students will explore the following questions: What constitutes an "effective" strategy and once a strategy has been developed how do executives work with the stakeholders to get its execution right? What is likely to go wrong? How do managers correct it through better design of structure and process? Through analyses of several case studies and interaction with executives engaged with implementing change strategies, students will review how strategies are developed and more importantly, how they get executed through the medium of structure, process and culture. Students will study how organizational dimensions such as strategy, structure, technology and culture, and the many sub-dimensions within each of these, relate to one another and how they collectively determine the overall adaptive efficacy of the organization with respect to its operating purpose, mission, objectives, and environment.  Students will write a significant paper that analyzes his or her praxis experience that draws from and incorporates core concepts from the four core Organizational Leadership courses required for the minor.  This paper may be combined with a paper in the major or Senior Presentation but must provide evidence of integrated learning from the praxis experience and theories learned in the core of the minor. Pre-requisite BSAD 130 or INTD 285. (Taken concurrently with a leadership, internship, or other praxis course worth 1-3 units e.g., departmental internship, BSAD 335, 392, INTD 18, or arrangement with instructor).
PROGRAM CHAIRS
Jeffrey N. Decker
Co-Chair and ​Associate Professor of Business Administration (Management) 
Co-Director, Program in Organizational Leadership
​Associate Professor of Business Administration (Management) 
Hoover 120 
562.464.4543​
jdecker@whittier.edu
Visit faculty page
Susan Gotsch
Professor of Business Administration (Management) and Sociology
Co-Director, Program in Organizational Leadership
Platner 119
562.907.4292
sgotsch@whittier.edu
View faculty page