Sylvia A. Vetrone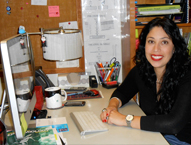 Associate Professor
Department of Biology
Upper Village 208B
562.907.4200 x4424
svetrone@whittier.edu
Mailing address: 
Whittier College, Department of Biology
13406 Philadelphia St., Whittier, CA 90608
Academic History
B.A.   Biology, Minor in Chemistry
Whittier College, 1999
Ph.D. Molecular, Cellular, and Integrative Physiology
University of California, Los Angeles, 2008
Academic Focus
Cell Biology
Cellular and molecular basis of disease
 
Research Focus
Immunology, oncology, disease pathology, oxidative stress, aging, neuromuscular disorders, effect of plant nutraceuticals on health, and biosensor development & validation for pathogenic detection.
Professional Memberships
American Society for Cell Biology, 2014
Genetics Society of America, 2013
National Academies Education Fellow in the Life Sciences, 2012
Institute of Biological Engineering (IBE) Faculty Member, 2012
Society for the Advancement of Chicanos and Native Americans in Science (SACNAS) Faculty Member, 2011
HACU Faculty Caucus, 2009
HACU, Health Science Advisory Committee Member, 2009
Vetrone, S.A., Huarng, M., Alocilja, E.C., Detection of Non-PCR Amplified S. enteritidis Genomic DNA from Food Matrices Using a Gold-Nanoparticle DNA Biosensor: A Proof-of-Concept Study, Sensors, 2012, 12, 10487-10499
Vetrone, S.A., Montecino-Rodriguez, E., Kramerova, I., Kudryashova, E., Granchelli, J. Hoffman, E.P., Liu, S., Miceli, C., and Spencer, M.J., "Osteopontin Promotes Fibrosis in MDX Dystrophy", Journal of Clinical Investigations, 2009 Jun; 119(6): 1583-94.
Phytoestrogen Project: This project involves elucidating the effects of dietary phytoestrogens. Estrogens are steroid compounds that have primary roles in reproduction, but have also shown involvement in metabolism, immune function, and mental health.  Previous studies suggest that estrogens can strongly affect fertility, lifespan, and oxidative stress across various organisms.  Phytoestrogens (a.k.a., isoflavonoids, isoflavones, and dietary estrogens) are a diverse group of naturally occurring non-steroidal plant compounds that have the ability to cause estrogenic or antiestrogenic effects, due to their structural similarity to estrogen.  Interestingly, phytoestrogens are sold in many health food stores as dietary and as post-menopausal supplements.  Therefore, I hypothesize that phytoestrogen from plants may have beneficial effects on these processes without carrying many of the feminizing effects of hormonal estrogen.
---
Toxicity of Nanoparticles Project: This project uses the C. elegans model organism to evaluate the effect of nanoparticles on biological phenomena, such as longevity, reproduction, metabolism and metabolic health (excretion/defecation), and general growth features, through exposure of such nanoparticles in the environment and food source of C. elegans. This investigation will allow for the development of standardized protocols for assessing toxicity of nanoparticles. Research results from these experiments will provide highly valuable information and insight into the effect of the above-mentioned nanoparticles on the environment and living organisms.
Much attention has been devoted to the employment of nanoparticles and nanotechnologies to develop novel methods of detecting pathogens. Nanoparticles are nanometer-sized materials, which have been recently developed for a variety of applications in energy, medicine, safety, defense, and products of importance to society. Due to their small size, nanoparticles exhibit unique properties, such as increased surface area, excellent mechanical strength, fast chemical reactivity, good electrical conductivity, strong magnetism, and special opto-electronic characteristics.  The nanoparticles used for this study are currently being used for target extraction and concentration, signal transduction, and signal enhancement. They consist of iron oxide cores and a variety of shell coatings, such as electrically active polymers (EAM), carboxyl, and amine, and polyaniline. This study will employ the nematode model organism Caenorhabditis elegans (C. elegans) to evaluate the potential risks posed to environmental health by the use of these magnetic nanoparticles.
---
Validation of DNA Based Biosensors for the Detection of Foodborne Pathogens: My collaborator, Dr. Evangelyn Alocilja, a research investigator of the National Center for Food Protection and Defense, is currently developing various nanoparticle-based biosensors that have the potential to serve as effective devices to ensure food biodefense through the rapid, sensitive, and specific detection of select (bioterrorism) agents in food products. The nanoparticle-based biosensors are rapid, sensitive, inexpensive, and can be used for field-operable identification of infectious pathogens, such as B. anthracis, E. coli O157:H7, Salmonella species, avian influenza virus, and Mycobacterium tuberculosis. The role of my lab is to validate their accuracy in being able to detect bacterial pathogens in liquid and solid food stuffs.