About
On
23 Apr, 2013
By
Anonymous (not verified)
0 Comments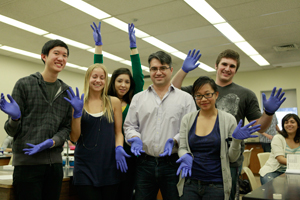 Through its major and minor programs, the Department of Biology at Whittier College strives to produce graduates that understand the scientific principles that govern living systems. Our students are broadly trained, inquisitive, and able to design creative experiments that allow predictions to be effectively tested. In addition, our students learn to communicate effectively both with other scientists and within an increasingly technological society by presenting their own results and studying the published work of other scientists. 
These skills prepare our graduating majors for careers in teaching, research, and health related fields. We emphasize "doing science" in addition to learning to use instrumentation to make measurements, to analyze and present data, and to place findings in the larger context of published science.
Faculty work closely with students to help them develop research skills within coursework through inquiry-based learning, and outside coursework through undergraduate research. Students have access to all of the equipment within the department, and frequently make use of it in their own independent studies. We emphasize the effective communication of results and conclusions through careful curricular design and close work with individual faculty members, often resulting in presentations at scientific meetings.
We invite you to become a part of an enthusiastic and inquisitive group of faculty and students who want to understand the living world.