Russian Portrait: Richard M. Nixon Fellow Holds History In Her Hands
On
14 Jun, 2013
By
admin
0 Comments
Saturday, September 3, 2011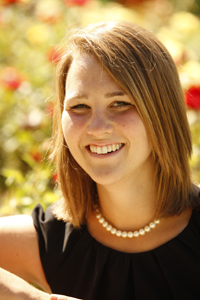 Spending a semester cataloging hundreds of photos related to the Richard M. Nixon presidency Melissa Samarin '11 found that each of these historical images was a piece to the larger puzzle illustrating his administration.
"They say 'a picture holds a thousand words' and I've literary handled hundreds of these [images] so I feel I have a very complete history of Nixon's presidency by now."
Samarin, the 2010-11 Nixon Fellow, worked as an intern at the Nixon Presidential Library in the fall just as the library received boxes upon boxes of new material from Washington D.C. that needed to be sorted, filed, and put away.  
Fortunately for Samarin, her cataloging allowed her to add visual images to research she had been conducting on Nixon's legacy on human rights in the former Soviet Union.
Samarin points to photos of Nixon and Secretary of State Henry Kissinger meeting with then-Soviet general secretary Leonid Brezhnev in both Washington, D.C. and Moscow. According to Samarin, these historical meetings between the White House and the Kremlin, where various nuclear arms and mutual collaboration agreements were signed, were a predecessor to the Helinski Accord – a wide ranging series of agreements of on economic, political, and human rights issues signed in 1975.
"There is an actual correlation between Nixon's foreign policy and human rights negotiations during the Cold War," explains Samarin, who spent more than a year researching this topic.
"It was because of his détente policy and foreign policy [in general] that this chain reaction of positive relations followed. This in turn enabled a series of negations to happen, and essentially allowed for human rights to be put on the radar of the international agenda during the Cold War."
Samarin's research really began across the Atlantic the summer before her senior year, where she spent a packed two months in the country that served as the nexus of her research. Immersing herself in the language, she took political science classes in Russian, taught English, interned at the Hermitage museum, and did research at the National Library of Russia. 
Traveling one hour each way from her host family home to the historic campus of St. Petersburg State College, Samarin was able to soak as much of the city as she could. Moreover, her ingenuity and basic Russian language skills put her at the information desk of the Hermitage Museum – the location of her internship – allowing her to become well-acquainted with the works of art within this, one of the largest and oldest museums of the world.
Self-starter that she is, Samarin also surpassed the notorious Russian red-tape to gain access to important documents at the National Library.
"It would literally take about 30 minutes to get copies of any document," said Samarin, who patiently waited, relishing the access to such unique documents.
"This was an amazing way to spend my senior year," said Samarin. "Traveling and living in Russia was just the best part for me, living in a foreign country, being able to blend in and experience the lifestyle is unforgettable."
Graduating as a Whittier Scholars international studies and Russian studies double major, Samarin plans to continue her studies on Russian and Eastern European politics at the University of Birmingham in England in the fall.
The Nixon Fellowship was created and endowed through gifts from friends, colleagues, and admirers of President Richard M. Nixon '34. For further information or to contribute to the Fellowship program, contact the Office of Advancement at 562.907.5219 or go to www.whittier.edu/supportwhittier. 
- from The Rock, Fall 2011