Research & Fieldwork
On
23 Apr, 2013
By
Anonymous (not verified)
0 Comments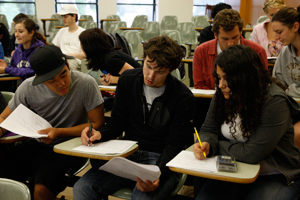 At Whittier College, our student body works in close, active collaboration with professors who are leaders in their fields. Together, this team of learners conducts research projects that push the boundaries of knowledge and inquiry.
Students are encouraged to engage in research projects, either on their own, as part of their coursework, or jointly with faculty members.  A recent example of student-faculty research is a paper written by Nicole Yamasaki and Roger White titled, "Source-Destination Cultural Differences, Immigrants' Skill Levels, and Immigrant Stocks: Evidence from Six OECD Member Host Countries."  The paper was published in the August 2014 issue of the National Institute Economic Review.  Students are also encouraged to present their research at conferences such as the Southern California Conference for Undergraduate Research (SSCUR) and at the College's own Undergraduate Research, Scholarship, and Creative Activity (URSCA) Conference.
All Economics majors complete a Senior Project which consists of in-depth original research on a topic of the student's choosing. The Project involves analysis of the selected topic, including a synthesis of related literature and the gathering and examination of data to test particular hypotheses. Guidance is provided by faculty in the selection of topics, determination of appropriate research methodology, and the writing of the thesis; however, the Senior Project affords majors a unique opportunity to apply the knowledge they have gained during their undergraduate careers, to hone existing research, writing, and presentation skills, and to acquire new skills.
Some titles of recent Senior Projects include:
Class of 2014
"Sociological and Economic Determinants of Voting in the United States", Arianna Assenmacher
"Crime and Society", Andrew Chen
"Economic Determinants of Well-being", Corinne Cleveland
"Determinants of Professional Sports Franchise Establishments", Dylan Irwin
"Economic Consequences of the Civil War: A Slow Death in Syria", Levon Massmanian
(Winner of 2014 Award for Best Senior Project)
"Timing Effects in the Market for Residential Real Estate", John Pellarin
"The Effect of College Ranking Systems on Private Higher Learning Institutions", Laurel Pinkley
"Quantitative Easing and Manufacturing Industry-level Output", David Raygoza
Class of 2013
"Cap-and-Trade Carbon Markets: Delayed Migration to Renewable Energy Production", Jasper Albright
"The Transformation and Development of China's Economy from 1949 to 2012", Sean Bahar
(Co-winner of 2013 Award for Best Senior Project)
"Mergers and Acquisitions in the Energy and Power Industries", Eddie Beckerman
"Rational Behavior in Sports? A Look at NFL Players and Their Bad Decisions", Jonathan Grubb 
"The Economics of Hiring a Federal Employee", Melissa Lam
"Recessionary Fitness, 2006-11", Wiles Larimer
(Co-winner of 2013 Award for Best Senior Project)
"The Economic Effects of Protestantism in Europe", Leslie Lequang
"Differentiating Brain Drain: Factors Influencing Migration among Three Job Skills", Ernie Reus
"Cast Your Vote Accordingly: The Effect of Economic Growth on Presidential Elections", Kristen Rock         
"Simultaneous Quantile Regression and the Gravity Model", Brian Ybarra                                  
To help prepare students for the Senior Project, all Economics courses include a writing component. Additionally, our Econometrics course requires students to complete an original research project. The Senior Project culminates each spring semester when majors present their research to their peers, professors, families, and friends.
Economics majors are also encouraged to present their research findings as part of the Southern California Conferences for Undergraduate Research (www.sccur.org) and to submit their work for possible publication in peer-reviewed undergraduate research journals. Majors are also encouraged to seek out opportunities to co-author works with members of the Economics department faculty.
Students further interact with faculty members in programs that are part of the College's Centers of Distinction and take place at Garrett and Hartley Faculty Masters' Houses, on-campus residences where professors live for a multi-year term and coordinate and host an array of educational and social activities.
While students at large universities struggle merely to gain face-time with professors, here at Whittier, students interact with the faculty personally and on a daily basis.