Ann M. Kakaliouras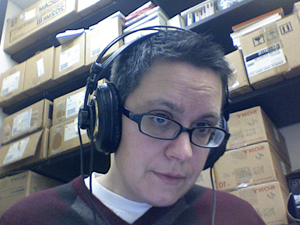 Associate Professor
Department of Anthropology
562.907.4200, ext.4341
akakalio@whittier.edu
Academic History
B.A., Hamline University
Ph.D., University of North Carolina
Academic Focus
Bioarchaeology, human osteology, biological distance of the American Southeast, Native American repatriation, NAGPRA (Native American Graves Protection and Repatriation Act), Cultural studies of physical anthropology
After having received her Ph.D. from the University of North Carolina at Chapel Hill in 2003, Professor Ann Kakaliouras served as an Assistant Professor of Anthropology at Appalachian State University, in Boone, North Carolina until 2006. Since 2006, Kakaliouras has held the position of Assistant Professor of Anthropology at Whittier College, where she teaches courses in biological anthropology, archaeology, Native American studies, gender studies, and theory in anthropology. Although she is trained as a human osteologist, bioarchaeologist, and biodistance researcher with specializations in the American Southeast and Midwest, since obtaining her doctorate Kakaliouras has also been engaged in retooling her expertise toward the historical and ethnographic study of the phenomenon of repatriation and the history of relationships between Native American people and physical/biological anthropologists.
Likewise, Kakaliouras has corollary interests in contemporary science studies and material culture studies within anthropology. Her most recent publications address the ways in which the physical anthropological subdiscipline of bioarchaeology has responded to the demands and legislative successes of the reburial movement. Her current research investigates the material, policy, and scientific reverberations of cultural encounters between anthropometrists and Native American people during the first half of the 20th century.
Memberships and Service
Payne Prize Chair, SOLGA (Society for Lesbian and Gay Anthropologists), 2007-2009
Manuscript reviewer for the American Anthropologist, American Journal of Physical Anthropology, Transforming Anthropology, School for Advanced Research, and the University Press of Florida.
American Anthropological Association (Biological Anthropology Section, Feminist Anthropology Section, SOLGA)
American Society for Ethnohistory
Zeta Chapter of Phi Beta Kappa (Hamline University)
Recent Publications
2008, "Kennewick Man: A Virtual Political Object 'Under Construction'." In Burke, H. et al. (eds) Kennewick Man: Perspectives on the Ancient One. Walnut Creek, CA: Left Coast Press, pp. 88-93.
2008, "Leaving Few Bones Unturned: Recent Work on Repatriation by Osteologists," American Anthropologist, 110(1): 44-52.
2008, "Toward a New and Different Osteology: A Reflexive Critique of Physical Anthropology in the United States Since the Passage of NAGPRA," In Killion, T. (ed.) Opening Archaeology: Repatriation's Impact on Contemporary Research and Practice. Santa Fe, NM: SAR Press, pp. 109-129.
2006, "Feminist Pedagogy in Biological Anthropology." In Geller, P. and M. Stockett (eds.) Feminist Anthropology: Past, Present, and Future. Philadelphia: University of Pennsylvania Press, pp. 143-155