Ni Hao, Whittier
On
1 May, 2013
By
admin
0 Comments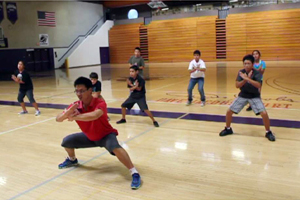 Whittier College is offering three exciting sessions of its Fall Chinese Language Academy - Ni Hao, Whittier - for children (age 5-12) and youth and adults (age 13 and up) who are interested in learning the Chinese language and experiencing Chinese culture. Classes include instruction in Chinese calligraphy, music, dance, and handicrafts.
Previous exposure to Chinese is not necessary.
LOCATION
Whittier College campus in Whittier, CA. 
SCHEDULE
Students have the option to take one or more four-week sessions, which take place on Saturdays. 
Session 1: October 5, 12 19, 26​
Session 2: November 2, 9, 16, 23
Session 3: November 30; December 7, 14, 21​
Class times for children: 9:30 - 11 a.m.​
Class times for youth and adults: 11 a.m. - 12:30 p.m.
FEES & REGISTRATION
$88 per student, per session (4 classes). Registration deadline is five days prior to each session. Register online at by clicking here.
CONTACT
Ms. Ting Kei Catherine L. Weir
Director of Program Development
cweir@whittier.edu
562.907.5047
FACULTY
ROSE WANG graduated from Belorussian State University of Arts and Culture in 2010; she specializes in teaching Chinese dance and is an award-winning choreographer. Her composition "Hand" earned a 2005 Gold Medal in Performance in the 11th Chinese Population Culture Award, organized by the Ministry of Culture. Her composition "Flying" won the First Prize in the International Oriental Dance and Folk Dance Competition 2009, organized by the Ministry of Culture of Belarus.
SUN DI graduated from Changchun Teachers College Conservatory of Music, and majored in vocal performance. He has been working with Huaqiao University since March 2005. Under his direction, programs "Drum Rhyme" and "Samantha" each won First Prize during the National Students' Art and Cultural Exhibitions.
LU RONG earned her Ph.D. in calligraphy from Suzhou University, and currently serves as an art professor with Huaqiao University. She is a member of Fujian Provincial Calligraphers Association, and has authored 10 published works for professional journals on calligraphy and painting. She is a teacher of calligraphy, calligraphy creation and appreciation, aesthetic theory, and Chinese art history courses.
MAN MING WAH graduated from the Guangzhou Institute of Physical Education with a master's in Chinese traditional sports. He is an expert in Chinese martial arts (Nanquan, Nandao, Sanda) and earned First Prize in the Guangdong Province Traditional Wushu Championships. Currently he teaches sports martial arts and coaches the student Wushu Team at Huaqiao University. In July 2011, he led the student Wushu Team to a gold medal at the annual martial arts competition in Fujian Province.
NOTE: Nanquan features vigorous, athletic movements with very stable, low stances, extensive hand techniques and a vocal articulation called fasheng ("release shout"). Nandao is a contemporary broadsword used in Nanquan, which were included in the International Wushu competition in 1999. Sanda is a modern fighting method and sport influenced by traditional Chinese boxing.
WANG DA WAI is an art professor for Huaqiao University and is a member of the Chinese Anthropology of Art Research Association. Primarily engaged in the study of art theory and Chinese painting, he published several academic articles in professional journals. His calligraphy and ink painting works have been selected for national exhibition.
HU PEI AN earned a Ph.D. in Chinese philology from East China Normal University and currently is a professor at Huaqiao University. His research focuses on modern Chinese grammar rhetoric, teaching Chinese as a foreign language, and Chinese education, and his fieldwork has included travel to Indonesia, Thailand, and other countries engaged in the Chinese education teacher-training. He has authored more than 40 related works on the subject for Jilin People's Publishing House and Huazhong University of Science and Technology Press.