Whittier Students Take Youngsters to the Fifth Dimension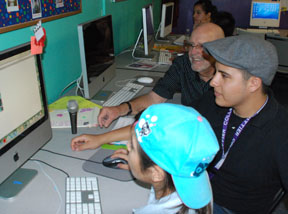 Using innovative techniques that integrate technology and play, Whittier College students reach out to children from socially and economically marginalized groups to teach them basic reading, writing, mathematics, and logical problem solving skills.
This is all done through the program Fifth Dimension which has been running for 17 years in the city of Whittier and functions as a partnership between the College, the Boys & Girls Club of Whittier, and the BCM Foundation (formerly the B. C. McCabe Foundation).
"The Fifth Dimension builds the club member's self-confidence in their ability to learn successfully, while promoting college as a goal through the mentoring process with our Whittier College students," said Fifth Dimension adviser professor Don Bremme.