Whittier College's Diversity Noted in College Rankings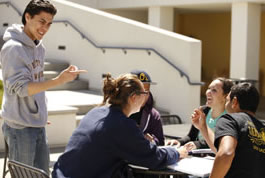 It's that time of year again when college rankings are released in anticipation of the fall college application process. Whittier College has once again been included in the college ranking lists released by US News and World Report, Princeton Review, and Forbes magazine.
In Forbes "America's Best Colleges" issue, Whittier was listed as #215 of 610 overall colleges and universities in the country. Meanwhile, US News' "Best College" issue gave Whittier kudos for its campus diversity. Whittier was also included in the 2011 edition of the Princeton Review's annual college guide, "The Best 373 Colleges".
More importantly, Whittier College participates in the National Survey of Student Engagement (NSSE) which measures colleges on five qualitative "benchmarks" related to student involvement in key practices associated with learning, persistence, and graduation. Whittier has received top marks in the areas of: level of academic challenge, student-faculty interaction, and enriching educational experiences.