Whittier College Memorializes Alyssa Sialaris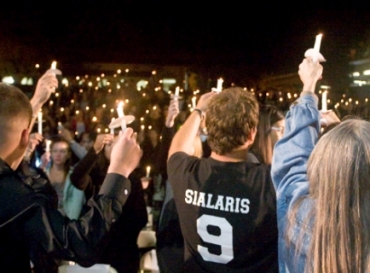 The Whittier College community came together on Sunday to honor the memory of senior dual sport athlete Alyssa Sialaris who passed away two days ago in her off campus apartment. The cause of death is still unknown.
About 300 people—including the Sialaris family—attended the campus memorial held in the Campus Center courtyard. President Sharon Herzberger began the evening by reading an excerpt from "My Triumph," a poem by John Greenleaf Whittier that was read during the New Student Convocation welcoming Sialaris and her peers to the Whittier campus.
"Hail to the coming singers! Hail to the brave light-bringers! Forward I reach and share All that they sing and dare."
"Alyssa was a bright young woman, courageous and promising—a true asset to our campus community," said President Herzberger. Often unsuccessfully holding back tears, Sialaris' professors, friends, and coaches took turns at the podium recounting stories that demonstrated the intelligent, generous, brave, and energetic young woman being eulogized. 
Speakers included professors Trish Van Oosbree and Kathy Barlow, former Poet volleyball coach Ali Oliver, head track and field coach Dave Hogan, assistant track and field coach Christa Youngern, Whittier Hall of Famer Debbie Countess, former assistant volleyball coach Jennifer Espinoza, and student athletes Brandon Wilcox, Idean Vandi, Brenda Kramer, and Danielle Kwasniowski. 
The speeches were followed by a video montage, prepared by the athletic department, which showed images of Sialaris as a child, with her family and friends, and an as athlete at Whittier.The evening finished with a candle light moment of silence, a speech by Sandy Sialaris (Alyssa's mother), and a video of Sialaris dancing to a song on the way to the beach.
The service, that started off sorrowfully, ended with tears of joy in acknowledgement of the lives Sialaris touched both on and off the playing field.
"Alyssa was a tremendous student-athlete and supportive teammate," Whittier College Athletic Director Robert J. Coleman said. "Her energetic spirit, her drive and focus, made her an exceptional competitor and an equally accomplished scholar. No question, this is a tragic loss for our sports community."