Whittier College Receives Significant Art Loan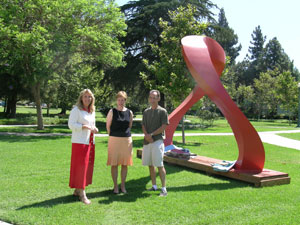 Three striking, large-scale, contemporary outdoor sculptures are soon to grace the Whittier College campus, thanks to a generous loan by the Philip and Muriel Berman Foundation and its current president, Nancy Berman.
The pieces, formerly housed on the Berman estate in Pennsylvania, are among only a handful of the foundation's extensive sculpture collection of major 20th century artists slated for display on the West Coast. Whittier College is one of the first sites designated for the honor thus far, receiving three sculptures from the exclusive West Coast set.
The primary piece in the Whittier suite is the Hadany Arch, an abstract, red steel sculpture that resembles a Mobius curve, looms 20 feet at its tallest point, and is the scale model for the 100-foot masterwork that currently spans a roadway leading into Lycoming Mall in Pennsylvania. The original artwork by noted Israeli sculptor Israel Hadany was commissioned in 1977 by the Bermans, both of whom had a passion for discovering and aiding up-and-coming artists in America, Europe, and Israel. The Hadany Arch will make its home on the Whittier campus at the primary northern entry point, between the Rose Hills Foundation Center for Information and Technology Resources and historic Lou Henry Hoover Hall.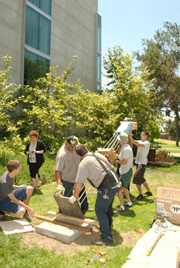 The other two artworks to be housed on campus are part of the Berman Foundation's "tonal piece" collection. Resembling towering, thin pipes of various sizes, the magic of these works is their mobility in wind or subtle ground shifts, which produces a light-toned chime. Of the two designated Whittier pieces, one is by an unknown artist, and one is by sculptor Willy Breuggman.
Enthusiastically greenlighting the Whittier partnership, Nancy Berman, who now runs the Philip and Muriel Berman Foundation said: "In particular, I believe the Hadany Arch is a wonderful and appropriate addition to Whittier College. The arch is an amazing, eternal symbol; a portal to another stage of life."
The Berman Foundation artworks are scheduled for installation on the Whittier College campus on between noon and 1 p.m., Friday, July 20, and will remain in place for a minimum loan period of five years. The connection between the Berman Foundation and Whittier College was made possible through Brenda Levin of Levin & Associates, the architect spearheading the college's Campus Center project.
David Sloan, Whittier College professor of art, will oversee the installation of the Berman sculptures and subsequent label placards. Sloan, along with his colleagues in the art department, plans to incorporate study of the sculptures and artists Hadany and Breuggman into his curricula.
Philip and Muriel Berman were avid collectors of fine art - from contemporary sculpture, to masterworks of paint, print, and drawings, to antiquities - and their interests spanned centuries of art history through modern times. The philanthropic pair also commissioned a number of sculptures for public installation, notably meeting young talent on the rise throughout their European and Middle Eastern travels, and subsequently providing funds for work in the otherwise costly medium. Works donated or loaned from the Berman Foundation can be found in numerous galleries, museums, hospitals, college campuses, and city parks throughout their home state of Pennsylvania and the greater Mid-Atlantic states.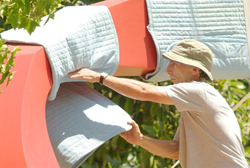 "Both my parents were passionate about having artworks available in public areas," said daughter Nancy Berman. "They believed that people should be exposed to art in their everyday lives because it could bring a sense of joy, a connection with creativity, an opportunity to contemplate and communicate."
Berman continued: "We are so happy to loan these pieces to Whittier College - the first West Coast school to receive sculptures from the collection - because having contemporary artworks of this scale and nature is a relatively new venture for the campus. My parents were especially committed to installing works on college campuses because they felt public art can and does change the nature of the environment in both obvious and imperceptible ways.
"This just seemed a fitting way to fulfill something my mother and father wanted to do."
Whittier College President Sharon Herzberger added: "We are thrilled that the Berman Foundation selected our campus for this honor. Not only does it signify an opportunity to establish Whittier's place in the public art sphere, but also to further expand our campus as a critical, cultural resource for the Southern California region and beyond."
Currently, Whittier College contributes annually to the local arts scene via concert series, guest performances, dance, and theatre offered through the Ruth B. Shannon Center for the Performing Arts, and through multiple exhibitions at Greenleaf Gallery, often showcasing the works of local or regional artists in a variety of media.