Whittier College 2013 Student Commencement Speaker Announced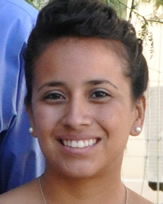 Whittier Scholars Program major Emily Baeza '13 has been selected to deliver the senior speech at Whittier College's 110th Commencement ceremony. 
Baeza has been active on campus and has been involved with Raising Awareness for the Environment, Quaker Campus, and Poet Entertainment, among other campus groups. 
Political science major Jacob Novick and kinesiology major Jordan Vega will be sharing reflections during this year's Baccalaureate ceremony which will take place Thursday, May 16 at 8:00 p.m. in the Harris Amphitheater. Baccalaureate is a special time for graduates, their families, and faculty to gather to express gratitude for all those who have helped students achieve academic success. The evening's program includes a "Then and Now" slideshow produced by Rich Cheatham, the Light of Learning Ceremony and a reflection on gratitude by professor Doreen O'Connor Gomez.