Whittier Alumna Named as New Leaders Council Fellow
Tuesday, February 25, 2014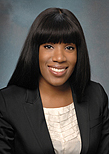 Criminal defense attorney Armilla Staley-Ngomo '03 has been named a 2014 New Leaders Council (NLC) Fellow. The NLC Institute is a highly selective leadership and professional development, training, mentoring, networking, and career and political advancement program for young professionals.
Staley-Ngomo is currently an associate at Caldwell Leslie & Proctor, PC, a litigation boutique located in downtown Los Angeles. As an associate, Staley-Ngomo represents individuals in both state and federal criminal proceedings. Her pro bono representation includes assisting undocumented individuals with their applications for asylum and Deferred Action for Childhood Arrivals (DACA), and representing garment and factory workers in their wage-and-hour employment disputes.
Staley-Ngomo joined Caldwell Leslie & Proctor following a clerkship with the Honorable Consuelo B. Marshall, United States District Court for the Central District of California. Prior to her clerkship, she served as a trial deputy in the Office of the Federal Public Defender for the Central District of California, and as a litigation associate in the San Francisco office of Morrison & Foerster LLP.
Click here to view a recent B2B panel featuring Staley-Ngomo.
Staley-Ngomo received her J.D. from the University of California, Berkeley School of Law in 2008 and earned her B.A. in political science and Spanish from Whittier College in 2003.
NLC is a non-profit organization that works to recruit, train and promote the progressive political entrepreneurs of tomorrow — trendsetters, elected officials and civically-engaged leaders in business and industry who will shape the future landscape.