Top Lawyer Honored by Alumni Association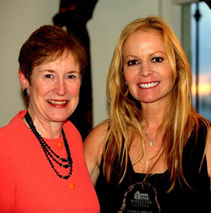 Alumna and Poet Council member Jennifer Fuller '82 was awarded the 2013 Poet Award for Alumni Achievement during this past weekend's Poet Council meeting. 
Fuller is a well respected tax lawyer and partner at Fenwick & West LLP in northern California. She was honored as one of the top 25 Women Tax Lawyers in "Euromoney's Guide to the World's Leading Women in Business Law" in 2010 and 2012, and was invited to write the introduction to the tax section in both editions.
In addition, Fuller is on the executive leadership committee of the International Fiscal Association, which is a highly-regarded worldwide group of leading tax advisors.
After receiving her B.A. from Whittier College, Fuller graduated from Loyola Law School with a J.D.. and an LLM from Georgetown Law School. She also is a CPA.