Thalian Society Honors one of its Own
Wednesday, October 23, 2013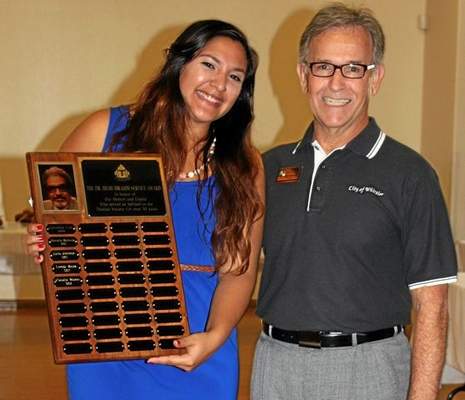 Thalian Society member Claudia Munoz was presented with the Dr. Hilmi Ibrahim Award for her volunteerism by Whittier Councilman Owen Newcomer during the Thalian Society Whittier College Homecoming brunch.
"I'm very honored to have received the award, and I have always had service in my heart, even in high school when I went to Africa to volunteer at an orphanage," said Munoz, as she received a plaque bearing her name, as well previous recipients.
Munoz spent her spring break volunteering as part of the Alternative Spring Break, a program that provides students with the opportunity to be part of a week-long service-learning trip to San Francisco.
Click here to read more.