Professor Danny Jauregui's Work Exhibited in the Greenleaf Gallery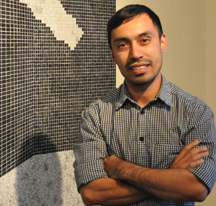 The Whittier College Greenleaf Gallery's most recent exhibit featured work by art professor and emerging artist Danny Jauregui. The collection, There Goes the Neighborhood, features his most recent work, which deals with the impact of the AIDS epidemic on the gay movement in the United States.
Jauregui has shown his work widely and currently has a solo exhibit at Bowdoin Museum in Brunswick, Maine. In addition, his work is part of a traveling museum exhibition, Phantom Sightings: Art After the Chicano Movement, which premiered at the Los Angeles County Museum of Art and is currently on view at El Museo del Barrio in New York city.
Jauregui's work can also be seen at www.dannyjauregui.com.