Poets continue to move up the ITA National Rankings to No. 19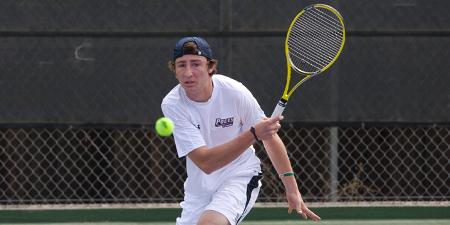 The Whittier College men's tennis team continues to climb the Intercollegiate Tennis Association National rankings coming in at No. 19 in this week's polls. 
The Poets started the year off at No. 26 and then bounced between No. 27 and No. 26 in the rankings for a few weeks before jumping four spots to No. 22 after a stunning victory over Pomona-Pitzer who was No. 22 at the time. This week, the Purple & Gold jumped three more spots to No. 19 after their tight 5-4 loss to No. 4 Cal Lutheran University last week.
In 2012, men's tennis reached No. 16, the highest ever for the team. 
Whittier is 9-9 overall in the season and 3-3 in SCIAC play. The team will travel to Occidental College this Friday, April 19 when they take on the Tigers beginning at 2:00 pm.
SCIAC, posts the toughest Division III tennis conference in the nation with five of the nine schools being ranked including Claremont-M-S (No. 1), Cal Lutheran (No. 4), Redlands (No. 12), Whittier (No. 19), and Pomona-Pitzer (No. 22). 
 
Click here to watch a YouTube video about the Poet tennis team.