New Wichita Elementary School to be Named After El Jefe Martin Ortiz '48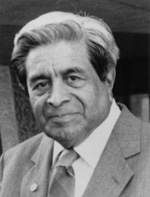 A school board in Wichita, KS, has voted to name a new elementary school, slated to open in 2012, after the late Martin Ortiz, well respected staff member and alumnus.
Ortiz, a Wichita native, was the oldest of 12 children. At the age of 13, during the Great Depression, he ran away from home in search of work. He returned to Wichita when he was 16 and graduated from North High School and became the first Hispanic to serve as student council president.
After serving in the marines during WWII, Ortiz enrolled at Whittier College. He worked at the College for more than three decades, founding the Center of Mexican-American Affairs and helping raise scholarship funds to help support countless Latino students at Whittier. Ortiz died in January of 2009 at the age of 89.