Making a Difference: Alumni Gifts Support Student Research Fellowships
On
12 Jun, 2013
By
admin
0 Comments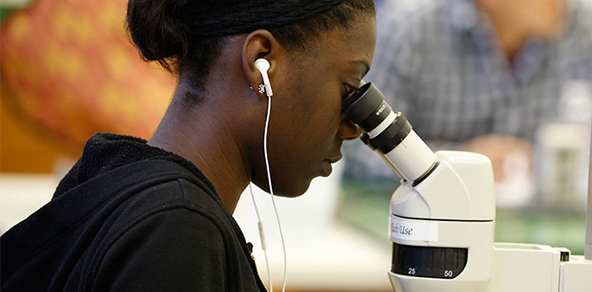 As Whittier College endeavors to strengthen its curricula in the Science, Technology, Engineering, and Math (STEM) disciplines, securing resources for student fellowships has become a key priority. Two donors have recently partnered with the College to help it provide valuable summer research opportunities to some of its most promising students in the sciences.
Established by Dr. Janet Roberts of Portland, Oregon, the Janet L. Roberts '64, M.D. Fellowships in Biology will provide valuable research opportunities for students in the area of biology for the next several years. The new fellowships will be awarded under the auspices of College's Center for Science, Health, and Policy to outstanding students selected by the faculty. Each award will consists of a stipend to conduct a summer research project, a faculty mentor stipend, and a small budget for supplies and or materials.
Research opportunities at the undergraduate level are particularly valuable for students in the science disciplines. A significant resume-builder, research experience makes students more competitive on graduate school applications and provides them with valuable analytical and project management skills.
A successful dermatologist practicing in the city of Portland, Roberts received her degree in biology from Whittier in 1964. She credits Prof. Lois James for encouraging her to attend medical school following her graduation. Roberts has decided to give back. "Supporting student fellowships was a wonderful way for me to help students gain career-expanding research experience and to enable them to benefit from the close one-on-one faculty mentoring that was so important for my own career."
A product of Whittier's chemistry department, Donald Baudrand '50 also decided to partner with the College to provide fellowships. Don is an electro-plating specialist and spent his career working for top firms such as IBM. Although he still consults, Don and his wife Virginia are now retired and residing in Poulsbo, Washington.
In partnering with Whittier College, the Baudrand's have made an investment in education that will impact generations of aspiring chemists. By endowing the Donald '50 and Virginia Baudrand Fellowship in Chemistry, Don and Virginia have ensured that funds for valuable research project will always be available to the most talented students of the Whittier College Department of Chemistry.
"After a career as a chemist for major corporations, I have a strong appreciation for the valuable skill set that students develop while working on research projects. I know that my fellowship will help chemists grow in their ability to problem solve, as well as manage projects and present findings. These skills will be invaluable in any career path they choose to pursue."
The annual interest generated by this new endowed fund will provide stipends for students in the Chemistry department, enabling them to participate in valuable summer research projects under the mentorship of a Whittier faculty member.
We are grateful for these two alumni who have invested in the sciences at Whittier College and the growth of its Center for Science, Health, and Policy through the provision of resources for student fellowships. 
- from The Rock, Winter 2013