Legendary Whittier College and NFL Coach Don Coryell dies at 85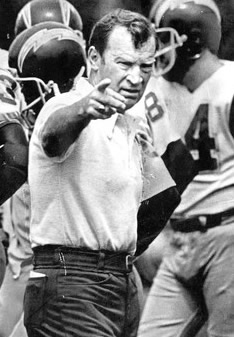 Whittier College Hall of Fame coach Don Coryell, one of the founding fathers of the modern passing game, has died. He was 85.
An outstanding professional and college football coach, it was under the direction of Coryell that the Poets won three of eight straight SCIAC titles from 1957-1964. Moreover, it was while he was at Whittier (1957-1959) that Coryell developed his well-known I-formation running game as a means for featuring outstanding running backs.
Subsequently, Coryell spent 14 seasons as an NFL head coach, five with St. Louis and nine with San Diego. His famed 'Air Coryell' offense led the league in passing yardage every season from 1978 through 1983.
Coryell is the only coach in modern day history to win 100 games in college and pro football and is a member of the college Hall of Fame and was a 2009 finalist for the Pro Football Hall of Fame.
Coryell had battled a lengthy illness and was surrounded by his family when he died at Grossmont Hospital in La Mesa, the Chargers said.