Latino Retention Rates:Whittier College Shares Key to Success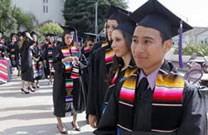 Whittier College's targeted efforts to successfully graduate Latino students is the focus of an Associated Press article that ran this weekend in the Los Angeles Times, Houston Chronicle, USA Today, and San Diego Union-Tribune, among other publications.
According to the article, studies show that more Latino students are enrolling in college, but a disproportionate number—an average 51 percent—drop out with debt instead of degrees. Yet, Whittier College is defying these trends with above-average Latino graduation rates, according to the March study by the American Enterprise Institute.
Brownie Sibrian '10, who graduated in May and was interviewed for the article, is a prime example of this trend at Whittier College. Despite personal challenges, the intimate setting at Whittier encouraged him to flourish and successfully complete his college education.