Latino Alumni Mentors Host Etiquette Dinner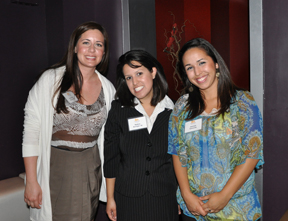 The Latina Alumnae Mentorship Program (LAMP) and the newly formed brother organization, Mentoring Excellence Through Alumni Support (METAS) recently hosted a networking and etiquette dinner for Whittier College students.
The event, held at a local restaurant in Uptown Whittier, was designed to connect Latino, and other underrepresented students, with alumni professional. The ultimate goal is to help guide and encourage students to complete their college education and enter professional paths.
Established three years ago by alumna Rosemary Donoyan '05, LAMP engages both Latina students and Latina alumnae to provide collaborative opportunities that foster community involvement, self empowerment and career development. METAS, which means goals in Spanish, was established by alumni Erasmo Fuentes '07 and Gabriel Chabran '07 to meet the needs to Latino males students at Whittier.
According to a recent study of national college graduation data by the American Enterprise Institute, Whittier College's Latino students are outperforming their peers on a national level— achieving a 63 percent graduation rate.