Jenae Davis '12 Wins "Generation Next" Scholarship
Friday, December 12, 2008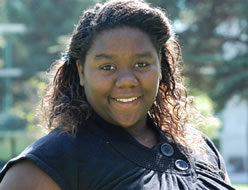 In high school, Jenae Nicole Davis '12 was told by her music teacher that she couldn't play the cello. Davis, who was born without a left hand, didn't like that answer. So, with some modifications to her instrument, not only did she learn how to play the cello, she became first chair in her school orchestra.
As a pre-med student at Whittier College, Davis is using the same drive to achieve her educational goals.
"My parents taught me never to lose sight of my dreams," said Davis. "No obstacle is big enough to stop you from achieving your goals."
Davis is one of five 2008 "Generation Next" Sallie Mae scholarship winners. She and her fellow awardees were chosen from nearly 1,000 entries, selected based on their academic record, financial need, and essays. Each of these young African-American women received a $5,000 award, was featured in the October issue of Essence magazine, and attended the first-annual Essence Young Women Leadership Conference.
"The conference was enlightening and empowering," said Davis. "I [was reasured] that I am not alone and that my academic aspirations are real and attainable."
Davis acknowledges that college, and eventually medical school, will bring on additional challenges. One of the reasons she choose to attend Whittier was that the close knit college community would offer her a supportive environment. At the same time, Davis is confident of her own resourcefulness. "I realize I am going to have to figure out my own way of doing things," she said.