Honorary Poet Nilo Cruz Unveils New Play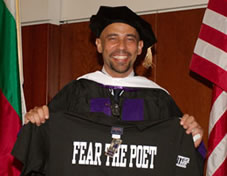 Pulitzer Prize winning playwright Nilo Cruz is debuting his new play, The Color of Desire, this week in Miami's Actors' Playhouse.
Cruz, along with composer Gabriela Frank, will be the inaugural Visiting Distinguished Professors for Whittier College's new Los Angeles Integrated Arts Program (LAIAP).
The LAIAP is a centerpiece project of the Center for Collaboration with the Arts and is funded by the Mellon Mays Foundation. The new program is designed to bring together the vibrant arts scene of the greater Los Angeles area with the College's curriculum and to enhance students' educational experiences.
Cruz won the Pulitzer for his play, Anna in the Tropics, in 2003, becoming the first Latino playwright to receive this award. He received an honorary degree from the College last May: a doctorate of humane letters. Frank is one of the most sought-after classical composers in the country and is managed and published by the prestigious firm of G. Schirmer, Inc.