Honorary Alumnus David Bohnett LHD '12 Honored by AJC Los Angeles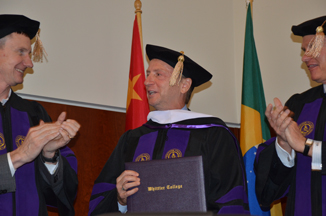 Social-networking pioneer and philanthropist David Bohnett L.H.D. '12 will receive the Ira E. Yelling Community Leadership Award on January 29. The award given by the American Jewish Committee Los Angeles (AJC) salutes the accomplishments of outstanding local leaders from all walks of life—civic, community, business, and political—who have made Los Angeles a better place for all people to live.
According to the ACJ website, Bohnett "was selected for his outstanding work as an advocate for human rights and a higher quality of life for all Angelenos."
Bohnett is an internet pioneer who co-founded the social networking site GeoCities in 1994. Widely considered the precursor to Facebook, GeoCities helped connect people and build communities throughout the world. Bohnett now heads the venture capital firm, Baroda Ventures, which invests in early stage technology start-ups that solve real-world problems, as well as his philanthropic organization, the David Bohnett Foundation.
Click here to read more.