Greenleaf Gallery Features Art Students' Prized Works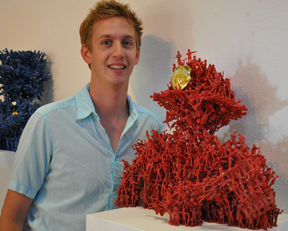 The Studio Arts Department held their annual end-of-the year juried exhibit of student works.
The jurors awarded first place to Jeff Edwards '10 and second place to Tiffany Desy '10. Jackie Jones '10 and Jane Edwards-McNear '10 tied for third place.Trillium Santin's '11 was chosen for the President's Purchase Prize, which was funded this year by a gift from alumna artist Kelly Thompson '95, and created with the help of Professor Jenny Herrick to enable the College to acquire works by talented Whittier students. These works will become part of the College's already impressive collection of art and exhibited on campus for successive generations of students and visitors to see.
All student works are currently on exhibit at The Greenleaf Gallery in Mendenhall on the Whittier campus.