Edmonton Press Gives Alumnus Due Respect for Sports Prowess and Being All-Around "Nice Guy"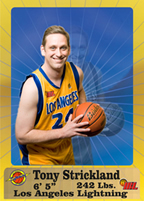 In the recent article "From Senate Chamber to Center Court" (Edmonton Journal), CA State Senator, campaigning State Controller on the Republican ticket, and two-season L.A. Lightning basketball athlete Tony Strickland '93 demonstrates why he's a versatile and valuable player. Strickland is part of the International Basketball League's Los Angeles team, and shares the court with the likes of NBA pros such as Bryon Russell, Fred Vinson, and Lamond Murray, among others. In the recent game against the Edmonton Energy, Strickland stepped up and scored a career-high 14 points, contributing to his team's 136-133 win.
In Sacramento, Senator Strickland is also posting a significant win; his latest authored bill, which places greater restrictions on where registered sex offenders may reside in relation to their previous victims, passed 61-0 in the State Assembly. The bill has since been sent to the governor for consideration.