Blogging with the Poets in Costa Rica
As part of their international tour, the Whittier College men's basketball team is in San Jose, Costa Rica this summer.
Fans can stay up-to-date through a team blog written by Jake Carter, son of head coach Rock Carter.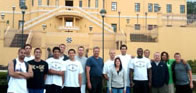 Here are some excerpts from the blog:
"The coaching staff commented not only on their newfound appreciation for what they have back at the Graham Athletic Center but also for the hardworking members of teams all over the world that play the game they love in conditions less than the posh environments than are normally seen in the United States."
"Nearing San Ramon the road became rougher and the jungle seemed to creep onto every part of civilization...The bus had to dodge the innumerable motorcycles that bounce along the dusty streets to finally reach the gimnasio de Rafael Rodriguez."
"According to the minister of the Costa Rican basketball league San Ramon takes their basketball 'very seriously.'" The Poets explore their new arena, smaller than the national one, but still spartan. Their first surprise is a lucha libre wrestling cage right behind the south basket. However, this arena's character makes up for the fact that it is a basic building for play. The floors are dark and most likely made from local lumber and the benches are actually benches, not chairs."