Award-Winning Authors Headling 2008 Whittier College Writers Festival
Wednesday, October 8, 2008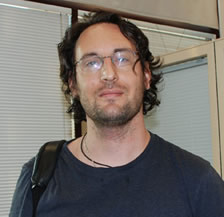 "I started finding my voice as a thinker and as a writer [at Whittier]. [Then] I got on the road of finding out who I was, and who I wanted to be," said New York Times bestselling author and Whittier College alumnus Charles Bock '91, featured author in this year's Whittier College Writers Festival.*
Bock's first novel, Beautiful Children, was released earlier this year and has been widely acclaimed by critics. "[It] dazzles its readers on almost every page," wrote the critic from Newsweek magazine.
"I think that it was the best Writers Festival yet," said English Professor Tony Barnstone, one of the festival organizers. "Every event was extraordinary."
Indeed, in addition to Bock, the slate of writers included two Pulitzer Prize-winners and two award-winning Middle-Eastern poets. All were part of the festival which took place from September 29 to October 1 in the Ruth B. Shannon Center for Performing Arts.
In addition to book reading, students and faculty had the opportunity to attend master classes with some of the writers — during which advice from the authors was abundant.
"You have to write at least two hours a day," said Pulitzer Prize-winning author Robert Olen Butler.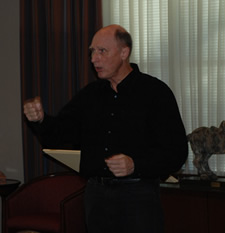 According to the author, before he got good at it he "generated literally a million words of dreck." Which included a dozen "terrible full-length plays, 40 dreadful short stories, [and] five wretched novels" — this of course was all before he wrote his 1993 Pulitzer Prize-winning collection of short stories set in Vietnam, A Good Scent From a Strange Mountain.
Bock's guidance was sensible and straightforward. "The work isn't going to do itself for you. You need to do it — there is just no getting around that."
Cuban-American playwright Nilo Cruz, whose work has been produced widely around the United States and Europe, opened the festival with a reading and book signing. He read from his Pulitzer Prize winning play, Ana in the Tropics.
"Writing is like nesting," he told the audience. "You take a twig here, a leaf there, and you bring them all together."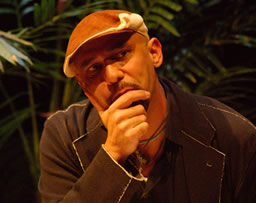 "Cruz' audience Q&A was both wise and useful, particularly his advice to students writing dramatic monologues; Always be aware of the 'silent listener,' have the speaker address him or her, check in with the listener now and then so the audience is aware of the silent presence of the other and so the monologue remains dramatic and not speech-making," recalls Barnstone.
Cruz's unpublished Lorca in a Green Dress will be staged at Whittier College in November. So, he took the opportunity to attend a play rehearsal and meet with the Whittier cast.
"At first the students and I were nervous and intimated that Cruz would think we had gotten it all wrong," said Professor Jennifer Holmes, who is directing the play. "[Rather] Nilo said he 'adored the beauty' of what we had done thus far with Lorca in a Green Dress. He was impressed that the students had come to understand the play so well after only 13 rehearsals."
Award-winning Iranian poets Nathalie Handal and Sholeh Wolpe rounded out the festival line-up, bringing a taste of the Middle East to the event.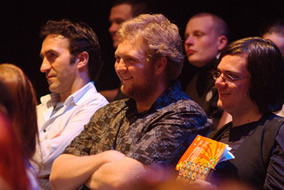 Wolpe a poet, literary translator and playwright, read from her translation of Iranian poet Forugh Farrokhzad. Handal who has taught and worked around the globe, displayed multi-linguistic talent sharing two poems in both French ("Une fois, Paris") and Haitian-Creole ("Presidente").
"The Middle Eastern poetry night was ravishing--gorgeous, political, lush poetry by two wonderful, smart women," said Barnstone. "Perhaps the most interesting moment was when Handal and Wolpe vehemently disagreed about whether the French government's banning of headscarves for Muslim girls was an infringement of their human rights or a necessary step to take in an era of extremism. I think it was great for the students to get a glimpse of the passion and interest of this debate."Â 
The 2008 Whittier College Writers Festival was sponsored by the Visiting Writers Series, Jennifer Holmes at Garrett House, and the Ruth B. Shannon Center for the Performing Arts.
* The Quaker Campus contributed to this article.