Author Geoff Shepard '66 Explores Five Watergate Scenarios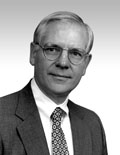 Author and lawyer Geoff Shepard will participate in a special forum, "Five Watergate Conspiracies," at the Richard M. Nixon Presidential Library on Monday, May 24.
The panel discussion, part of a series of Legacy Forums, will compare prominent Watergate conspiracy books, with a special focus on the role of former White House Counsel John Dean in the events that followed the Watergate break-in.
Shepard was an attorney on Nixon's White House staff for five years, and helped in his Watergate defense.
The Richard Nixon Legacy Forums are co-sponsored by the Nixon Foundation and Nixon Presidential Library.
The discussion will be broadcast on C-Span III, the American History channel, on Sunday, June 13 at 9:45 p.m., 4:30 p.m., and 10:00 p.m. (PST).
You can also view the program on the Nixon Foundation website by clicking here.