419 W. Lime Ave Receives Top Honors
Senior Conner McClure's work, 419 W. Lime Ave., received top honors during the art department's annual, juried, student art exhibit. McClure's piece, along with his peers', was juried by Los Angeles painter Devon Tsuno. Four students in all received special recognition. All artwork featured in the exhibition will be on display at the Greenleaf Gallery through May 23, 2008.                                       

1st Place
Conner McClure '08
419 W. Lime Avenue (Gouache on paper)
McClure's work depicts a confluence of industry and suburbia in the nearby town of Monrovia, Calif. Here, the artist makes clear the outcome of this battle.
2nd Place
Alec Bieber '08
Man Down (Wood and stain)
Bieber's whimsical yet somewhat maudlin piece depicts several frames of a man--with a penny for a face--flailing as he falls several feet to eventual doom. In each frame, the character is found in a different pose, almost in a study of motion.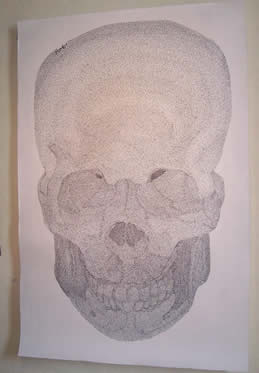 3rd Place
Aundria Miller '09
Untitled (Sharpie on paper)
Miller's work utilizes Shakespeare's text of Hamlet, laid out in concentric circles and swirls to create the title character's haunting momento mori--the human skull of Yorrick, and the foreshadowed finality for each character involved.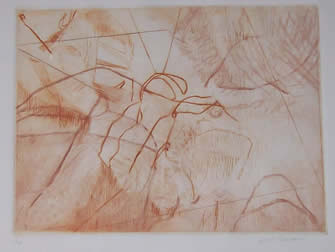 Purchase Prize*
Desi Stewart '09
Untitled (Dry point)
*The award for the artist earning the Purchase Prize is annually donated by Endi Poskovic, associate professor of art.