Society Spotlight
On
2 Dec, 2013
By
mramos1
0 Comments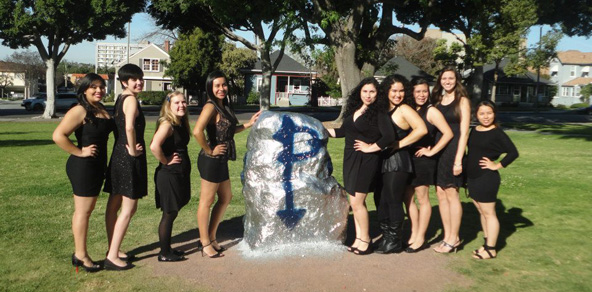 As has become tradition, the Palmer ladies get to paint the Rock once a week and then spend their lunchtime admiring their handiwork.
---
What "Sisterhood" Has Meant To Me
by Samantha Quintanar `13
from The Rock, Fall 2013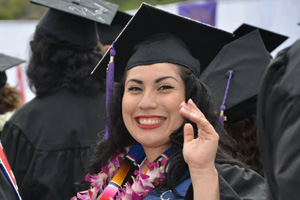 I WAS 18-YEARS-OLD and it was probably the worst day of my life. As I was packing for my return home from our choir tour in Oahu, I received a text with the four most dreaded words in a girl's vocabulary: "We need to talk." The text message was followed by a long and agonizing phone call back home. Breaking up over the phone was not how I had planned to spend my last day in paradise, but it happened. I felt as if I was in a scene of a bad romance movie. After I hung up the phone, I did what any other broken-hearted teenage girl would do, I cried a lot. Fortunately, I was rooming with two girls who empathized with my situation and wanted to make sure that I was okay. They stayed by my side for the rest of the day even as we boarded the plane and flew back to Whittier. It was wonderful to know that these two girls who hardly knew me would go out of their way to give me advice and cheer me up on such a bad day. It was as if I had two older siblings watching over me. It wasn't until later that I learned these girls were both in the Palmer Society. I never thought of myself being the "society type," but the sincerity and honesty that I felt from my roommates while on my choir tour was more than enough to change my mind.
I pledged the Palmer Society the following spring. I was amazed at how a group of young women so different from one another can, in just a few short weeks, become sisters of the heart. The pledging experience itself was tough because at the same time I was working two jobs and rehearsing for the upcoming musical Rent, but I survived. I quickly learned that being in a society was much more than partying, painting the Rock, and wearing matching sweaters. 
It is much more personal. The sisters I have gained here at Whittier have been my support system and have pushed me to achieve my goals. Whether I was performing in a play or singing in a concert, I knew I could always count on my sisters to be in the audience, cheering me on and bringing positive vibes. Sisters are more than the girls you hang with at school, they are the supportive family you need anytime—and anywhere.
Being in a society really shaped my undergraduate years and pushed me to never give up. I have obtained a great deal of skills that I can use in my daily life. I have had valuable leadership opportunities and experience, I have learned incredible time management skills (I can practically be in two places at once). I have learned how to think creatively, and how to plan and organize a successful event. Joining a society allowed me to get to know so many people on- and off-campus. I was able to create new friendships and I began to develop the feeling that I had finally found my place at Whittier. I was introduced to a large network of successful Palmer Alumnae that serve as mentors and supporters to the society and can possibly serve as future employers. I am happy to say that I have hundreds of sisters all over the world that I can connect with and share experiences with; no matter how different we may be, we are all Palmers. And to me that is something truly special that can never be taken away.
Sisterhood is:
• Attending each other's weddings
• Midnight fast food runs
• Borrowing clothes
• Calling AAA when a sister's car breaks down
• Providing break up advice
• Flexing each other into the Campus Inn when someone doesn't have a meal plan
• Baking cupcakes while watching I Love Lucy
• Crafting until the wee hours of the night
• Creating care packages when someone gets sick
• Helping each other find jobs
• Sneaking motivational notes to each other during the week
• Giving makeup and hair tutorials to one another