Club Spotlight
On
23 Oct, 2013
By
mramos1
0 Comments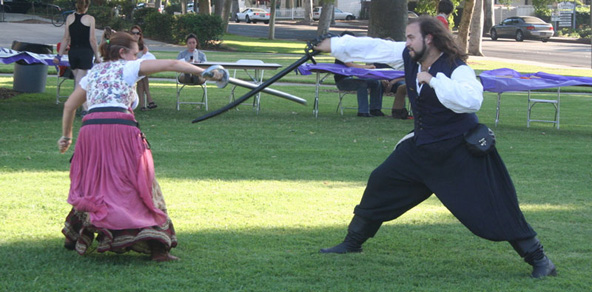 AOKP members let off some steam acting out combat scenes (with the use of safe, padded weapons) on the lower quad.
---
KINGDOM OF WARWICK
A Look Into AOKP
by Mauricio Escobar `14
from The Rock, Fall 2013
WALKING THROUGH THE UPPER QUAD on any Thursday night, you will likely see a group of people dressed like they just returned from a Renaissance fair. They might be closely guarding the Rock. They might be enjoying a madrigal feast or singing a raucous tune. Within a matter of seconds, they might even start attacking each other with homemade "boffer weapons" (foam swords), scoring direct hits to the torso, legs, or arms and emitting fierce battle cries in what seems to be a bygone language.
These Thursday-night costumed warriors are actually members in one of the College's oldest student clubs, the Arthurian Order of the Knights of Pendragon (AOKP). Established in the early 1980s, AOKP is heralded as one of Southern California's longest-running "Live-Action Role-Playing" (LARP) games. Players create a fantasy persona that lives and quests in the fictional kingdom of Warwick—which, incidentally, is also "inhabited by trolls, faeries, and many other strange and fantastic creatures," according to the AOKP website. The infrastructure is intricate, with crafted clans, allies, and histories that requires a decent amount of study to master. In the game, AOKP members learn skills and gain experience in combat, storytelling, music, art, costuming, and other related matters--all tied to the fantasy era and unique to the kingdom in which they inhabit.
The net effect is that not only do participants gain a whole new set of unusual proficiencies (and, not surprisingly, many have gone on to apply these skills professionally in the entertainment industry, post-graduation), but almost more importantly, they gain a core network of close friends that transcends just the undergraduate years.
 "AOKP has introduced me to a whole world of people who were just like me; people who wanted to [experience being] something greater than their mundane selves," says Alexandria Rubino '16, who joined the club in her first year. "And it's a huge support system. When one person in AOKP is suffering, we all surge together and create a huge safety net of love for them."
Due in large part to the successful foundation built over 33 years, more recent AOKP leadership has been working on branching out further into the LARP community within Lost Angeles and Orange Counties. Since 2007, there has been an expansion of "kingdoms": Warwick, exclusive to the Whittier College students and alumni, and the newer Caledonia, which is open to any interested parties. Both kingdoms meet occasionally for shared LARPing activities—melees and feasts and the like--and they formally visit each other's courts when they have the chance.
With more than 200 members over the last 33 years, and 30 current students populating the kingdom of Warwick, AOKP has provided a unique and engaging way for students to immerse themselves in a bygone era and explore a different version of their own selves. And, of course, have fun LARPing while doing so.