Upcoming Exhibitions
On
27 Apr, 2013
By
rrafferty
0 Comments
Diana Behl: Maybe Bermuda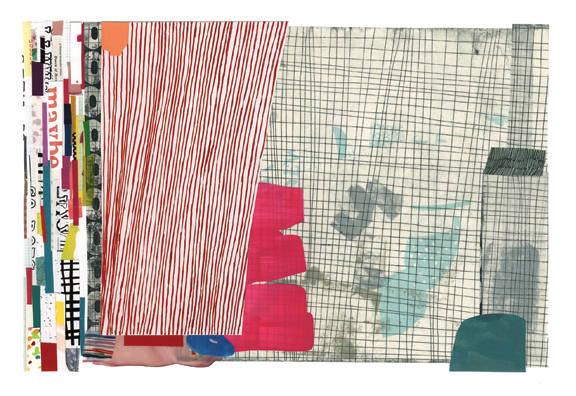 Exhibition Dates: January 19 – March 6, 2015
Artist talk: Monday, January 19 at 7 p.m.
_____________________________
Maybe Bermuda draws its name from a happenstance juxtaposition of collage elements. The works in this exhibition encompass a fusion of multiple sources, acknowledging Henri Matisse's paper cutouts and William S. Burrough's literary Cut-Ups. Salvaged printed proofs, forgotten then found scribbled notes, painted and cut paper are culled together to connect disparate fragments. Though, contrary to the writer's chance-based (Cut-Up) practice, I am most often reconfiguring and re-contextualizing years of collected material in a gestated manner—at times, seeking both a textural harmony and discord.
Diana Behl's recent work embodies an assortment of material exploration, including print media, collage and drawing. Her images are prompted by specific instances—memories of places visited, passages read, bits of everyday references, or interactions of material and form—both in and outside of the studio. Using these prompts, her practice then evolves around the improvisation and discovery uncovered while making, further enabling form to embody the evolution of that specific cue.
She has exhibited works in the Upper Midwest at the Soo Visual Arts Center, Highpoint Center for Printmaking and Minnesota for Book Arts (Minneapolis, MN); the South Dakota Art Museum (Brookings, SD) and Ipso Gallery (Sioux Falls, SD); as well as at venues such as the International Print Center New York (NY, NY) and SPACE (Pittsburgh, PA). Her works on paper have been featured in the Western Edition of New American Paintings (Volume 66) and the 2004 New American Paintings MFA Annual.
A past recipient of a South Dakota Arts Council grant, Diana Behl holds an MFA from The University of Iowa, and a BFA from Bowling Green State University. She is an Assistant Professor in the Department of Visual Arts at South Dakota State University.