Current Exhibitions
On
27 Apr, 2013
By
rrafferty
0 Comments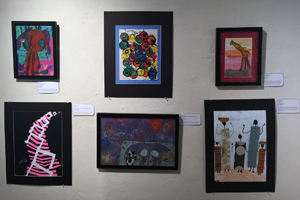 The Council for Art Education: Youth Art Month
Exhibition Dates: Closes Friday, April 17
Family Reception: Saturday, April 18, 12:00 p.m. to 2:00 p.m.
_____________________________
Creative works from Southern California art students in grades K through 12 will be on display at the Whittier College Greenleaf Gallery until April 17.
The annual Youth Art Month (YAM) administered by The Council for Art Education (CFAE) takes place across the nation each March, and is designed to celebrate visual arts for grades K – 12. The Youth Art Month Program emphasizes the value of art education for all children and encourages support for quality school art programs.
The California Art Education Association (CAEA) sponsors county Youth Art Month exhibitions each year. The first, second and third place winners in each county and of each age group (K-2, 3- 5, 6-8, and High School) go on to an area show. This year's southern area show at the Whittier College Greenleaf Gallery has students from Los Angeles, Orange, Riverside, San Bernardino, and San Diego counties.
First place winners of each age group from the three areas in the state – northern, central, and southern – will move on to a state exhibition to be held this year in Sacramento at the State Capitol Building in May, sponsored by State Senator Loni Hancock. One lucky student will be chosen from the state exhibition to travel to New York City, along with a parent and the student's art teacher, courtesy of Sargent Art Company.
Each year a senior high school student from each Area YAM show is also selected as that Area's Ruth Jansen Award winner and given a cash award. The funding for this award is provided by a special memorial trust fund established in memory of Ruth Jansen by her family, friends, and the community.
The California Art Education Association (CAEA) is the professional educational organization for pre-K through university educators working in all areas of the visual arts. The mission of CAEA is to strengthen visual arts education by providing professional development, a collaborative network for visual arts education professionals, and advocacy.