Current Exhibitions
On
27 Apr, 2013
By
rrafferty
0 Comments
"Return to the Unknown" by Klutch Stanaway
Exhibition: December 2, 2013 – January 17, 2014
Artist Talk: Tuesday, December 3 at 7 p.m. Reception to follow. 
---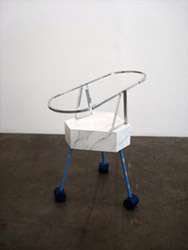 The Greenleaf Gallery is pleased to present Return to the Unknown, a solo exhibition by Klutch Stanaway. 
Stanaway is a sculptor investigating artifice and exploration. He has had solo shows at SolwayJones, Haus Gallery, and at Spacecraft Gallery. His work has been reviewed in Art Scene, ArtForum.com, Artweek, and LA Weekly. Stanaway's sculptures and drawings have been exhibited throughout the US, as well as in Germany and the Netherlands. Klutch received an M.F.A in Sculpture from Cranbrook Academy of Art and a B.F.A. from CSU Chico. He is a sculpture professor at Fullerton College. 
"Like bad sci-fi films from the 1950s, my sculptures are layered with faux surface treatments, futuristic efficiency, and anachronism," said Stanaway. "NASA explorations, '50s science fiction films, and common building materials are springboards for Return to the Unknown. I explore the act of exploration by constructing simulated instruments and props. The sculptures resemble lunar probes, modernist sculptures, and Exquisite Corpses with faux marble bodies on spindly legs. I'm trying to create objects that are multi-faceted and ridiculous. NASA, DIYers, and amateur tinkerers strive to understand their universe. I feel their ambition is universal, and so I am more interested in the act of their pursuits as opposed to the results."